Looking to eat at some good restaurants in Italy? Excellent. I truly believe few other countries in the world have food quite as good as Italian food. And experiencing that Italy's culinary culture — at its best — should absolutely be one of your aims on your trip.
But… it's not quite as easy to find good restaurants in Italy as you might expect.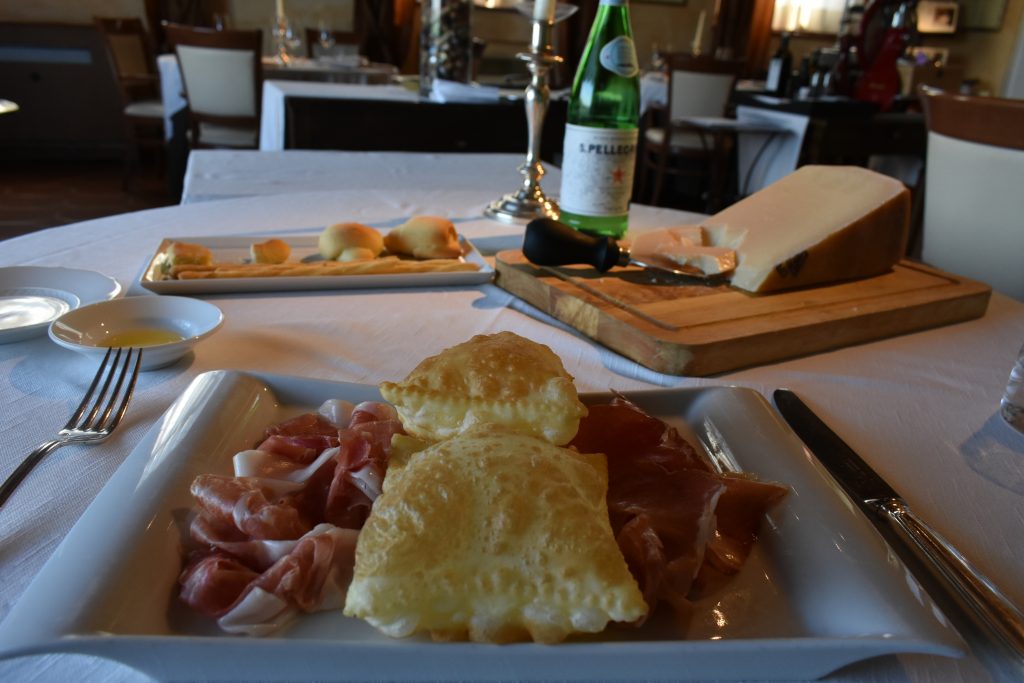 I can't tell you how many times I've heard people say "Italy! You can eat anywhere in Italy and eat well". Erm… not quite. It's true that if you have some savvy, you can find an excellent place, the kind where you walk out blissfully happy and with your wallet still surprisingly full, almost anywhere. But it's not true that you'll have this experience everywhere without even trying.
That's especially the case in cities that welcome as many tourists as a place like Rome. (Reminder: Three million people live in Rome, while 10 million people a year visit the city). Unfortunately, many eateries have taken advantage of the fact that they're unlikely to see these visitors again by serving up mediocre-to-terrible, even microwaved food.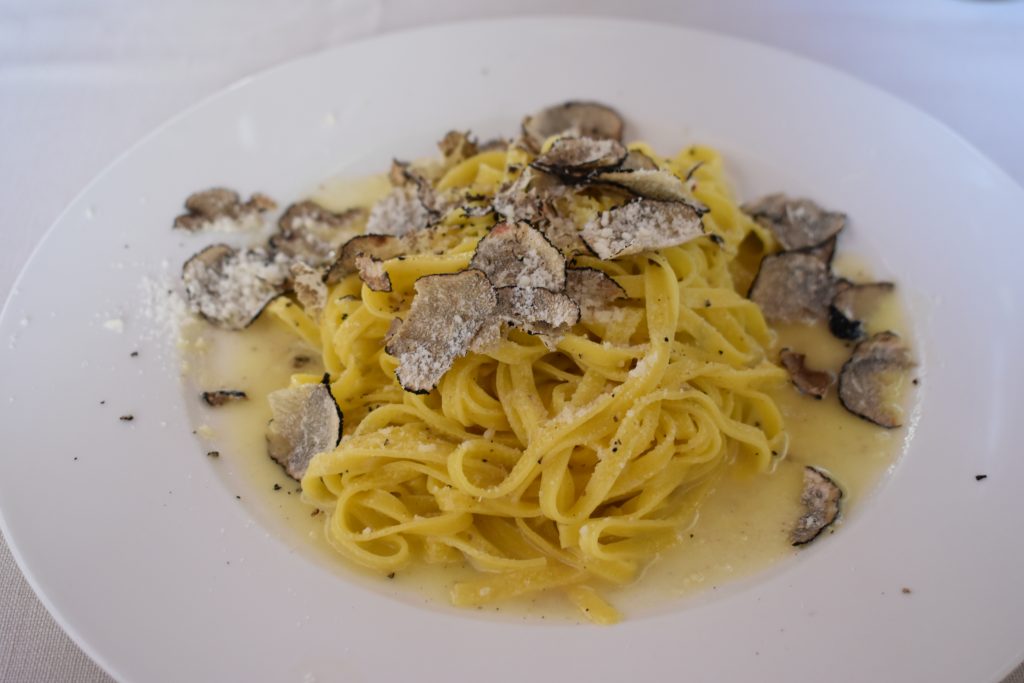 Want to avoid that experience? Here are some tips for finding good restaurants in Italy.
How to find good restaurants in Italy if you're… willing to put in some work
These tips are best for foodies who really want to make sure no meal goes to waste (and are willing to put in some effort and research to get there).
Tip #1: Don't use Tripadvisor (with one caveat)
It is so, so easy to research restaurants in advance now. You have thousands of websites at your fingertips, all promising to guide you to "the best restaurants in Rome" (or "the best restaurants in Venice", or "the best restaurants in Italy"…). But that's part of the problem. Where do you go? Whose advice do you trust?!
The first place many people tend to go for restaurant recommendations? Tripadvisor. Do not do this. Why? Tripadvisor's absolutely fine for reviews of hotels and tours — things that tourists are in a great position to review. But restaurants? With all due respect, most of us, when we're tourists, are not the best judges of the quality of local cuisine. That's especially true because so many travelers to Italy are confused about what even is Italian food to begin with. (More about this in my post about what's Italian, versus Italian American, food). You want a local's review, not a one-time visitor's — and locals don't tend to review their neighborhood restaurants on Tripadvisor.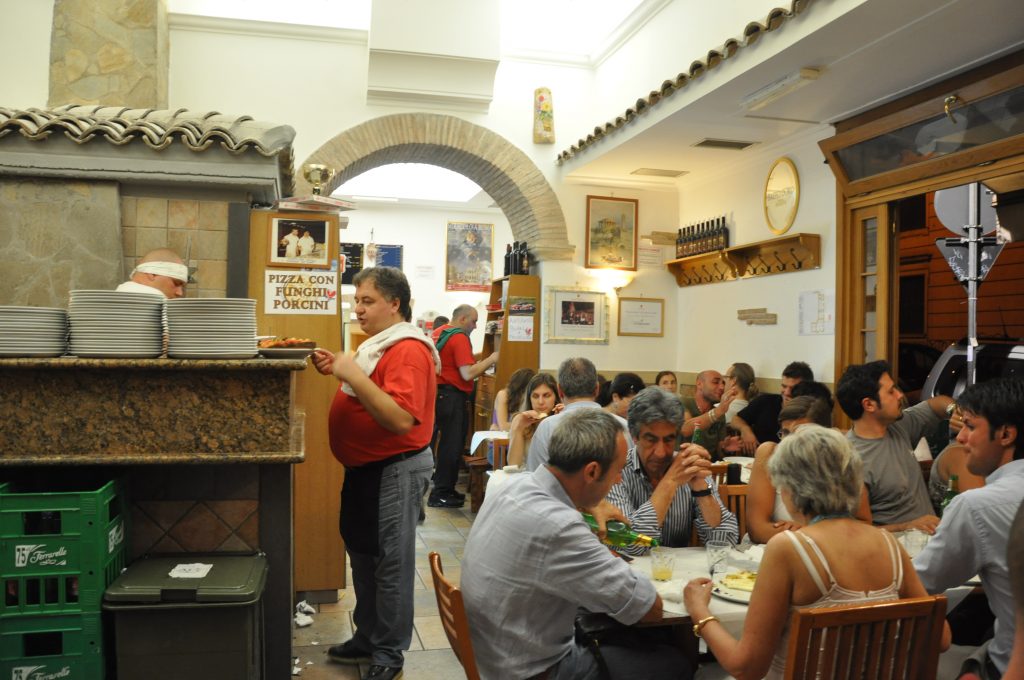 In fact, I know from personal experience that some restauranteurs have made a career out of "gaming" the system. I knew one owner who regularly served customers less-than-Rome's-best food. But he knew that, at the end of the meal, by being really friendly, offering a "free" limoncello and asking the clients to review him on Tripadvisor, he'd get a good review anyway. He did. For several months, his restaurant — which, again, was pretty mediocre — was the top-rated restaurant in Rome. According to Tripadvisor.
That being said? I will use Tripadvisor sometimes. But the Italian version. (Just go to Tripadvisor.it). Even if you don't understand the language, that's OK: if there's a restaurant you've heard of that you're cross-checking, you can put it in and see how the Italian speakers rate it.
It's still not foolproof. (An Italian from Milan is as much a tourist in Naples or Sicily as anyone else). But it's a bit better than exclusively looking at reviews and ratings by us Anglophones.
Tip #2: What (and who) to trust online instead
With Tripadvisor out, where else can you turn? I'm equally wary of Google reviews, but because they at least aren't sorted by language (and because I think locals are a little more likely to review their own favorite spots there), I trust them a little more.
Really, though, I trust individuals.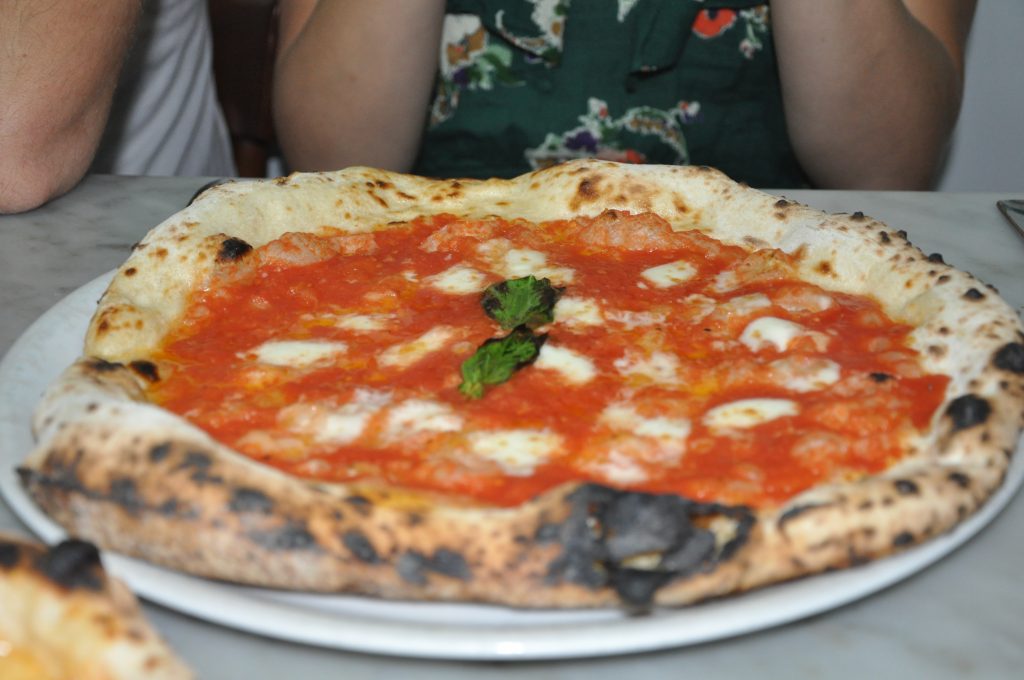 If my restaurant recommendations aren't quite enough for you (or you're looking for good restaurants in Italy in a different city), here are some other foodies in Italy to trust:
Katie Parla. Hands-down, this woman is my go-to expert on all things related to food and restaurants in Italy. The author of the excellent cookbook Tasting Rome (co-authored with Kristina Gill) as well as the new Food of the Italian South, she's someone you can trust with pretty much any Italy food query. For her Rome recommendations, her e-book Eating & Drinking in Rome is a must-have. For other parts of Italy, hit up her city guides.
Elizabeth Minchilli. Another long-time, Rome-based food blogger, Elizabeth's website is a lovely conglomeration of recipes and restaurant recommendations. As well as on her website, she shares recommendations (and recipes) for her favorite restaurants in Rome in her book Eating Rome: Living the Good Life in the Eternal City. She also has a handy app, Eat Italy, which covers Rome, Florence, Venice, Torino, Milan, Umbria, and Puglia.
Maria Pasquale. When I want to know about the newest restaurant or Michelin star-worthy spot in Rome, Maria's my go-to. She's got her finger on the pulse of Rome's food trends and contemporary restaurants. (She's also got a fun book, I Heart Rome: Recipes & Stories from the Eternal City, devoted to her love for Rome and its culinary culture).
In Florence, ITALY Magazine content editor and blogger Georgette Jupe-Pradier, also known as "Girl in Florence", has some great restaurant recommendations in a city that can be especially tough to find "local" spots in.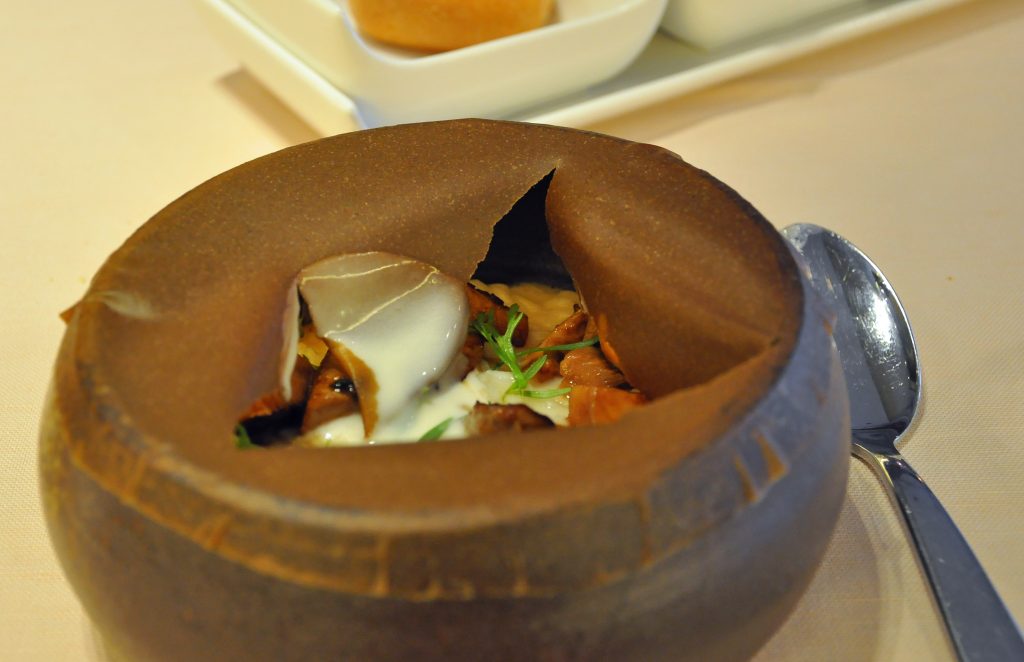 Tip #3: Consider a food tour
Food tours can be a fun (and delicious) way to break up the history- and art-focused sight-seeing. They can also be an excellent way to learn about the local cuisine… and pick your guide's brain about where they eat. Here are some favorites:
Food tours in Rome: Katie Parla (see above) offers private food tours, as does Elizabeth Minchilli. For wine classes and seminars, VinoRoma is great. For families, I love Walks of Italy's food tour with pizza-making class (kids love it), and for adults, their evening of pasta-making (and wine-drinking) with a local chef is lovely. Then there are all of the excellent tours by Eating Italy, which got its start in Rome, including their classic Taste of Testaccio tour, their twilight Trastevere food tour and even a Vatican area food tour (a must-do for any foodies staying near the Vatican or in the Prati area, since on your own, it can be tough to find good restaurants in Rome in that area, particularly).
Food tours in Florence: I'm a big fan of cooking classes like this one from Eating Italy, but the best way to get a sense of where the good restaurants are is probably their on-foot food tours of Florence. Walks of Italy has a wine and food tour in Florence, too.
Food tours in Venice: Walks of Italy's Venice food tour includes a visit to the Rialto market and a gondola ride.
But… let's say all of this research isn't for you. What if you just want to eat well, avoid Rome's worst dining options, and not spend tons of time researching and booking restaurants? That's fine. But you'll definitely want to follow the following five suggestions.
How to find good restaurants in Italy if you're… already in Italy (and don't want to screw around with too much online research)
So you're already on the ground, sans restaurant reservations, hunting for that perfect spot — and just can't be bothered to read a bunch of online reviews. It's okay! Here's help.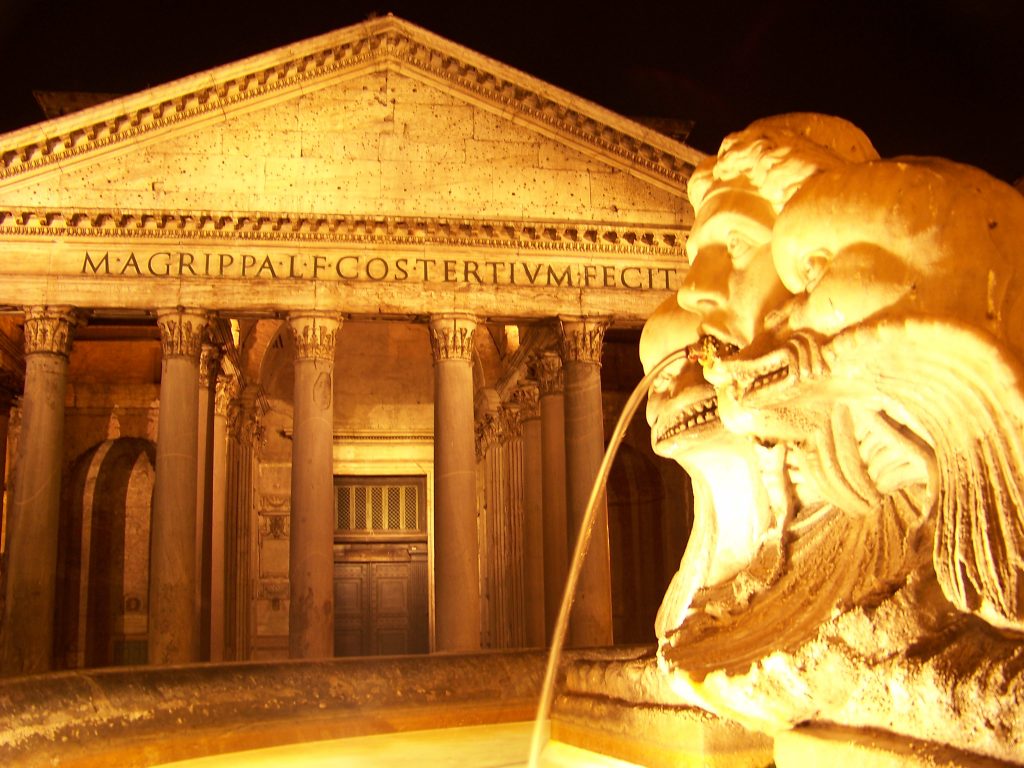 Tip #4: Get out of the tourist centers…
…Or at least be aware that the closest you are to, say, the Colosseum, the harder it'll be for you to find top-notch nosh. There are some notable exceptions to this: the pizzeria Alle Carrette in Monti, for example, is remarkably close to the Roman forum for having such good food. But while the owners of Alle Carrette have the pride and business acumen to keep their food delicious and their prices moderate, not every restaurant so well-positioned will do the same. Especially watch out for the areas right around St. Peter's Basilica and the Trevi Fountain, which are veritable food deserts.
Tip #5: Run, don't walk, away from friendly hosts.
He seems nice? He speaks English? He's telling you you're beautiful and your husband is a lucky man?
That all means one thing: His food's not good enough for people — most notably Italians — to come in on their own. Avoid at all costs.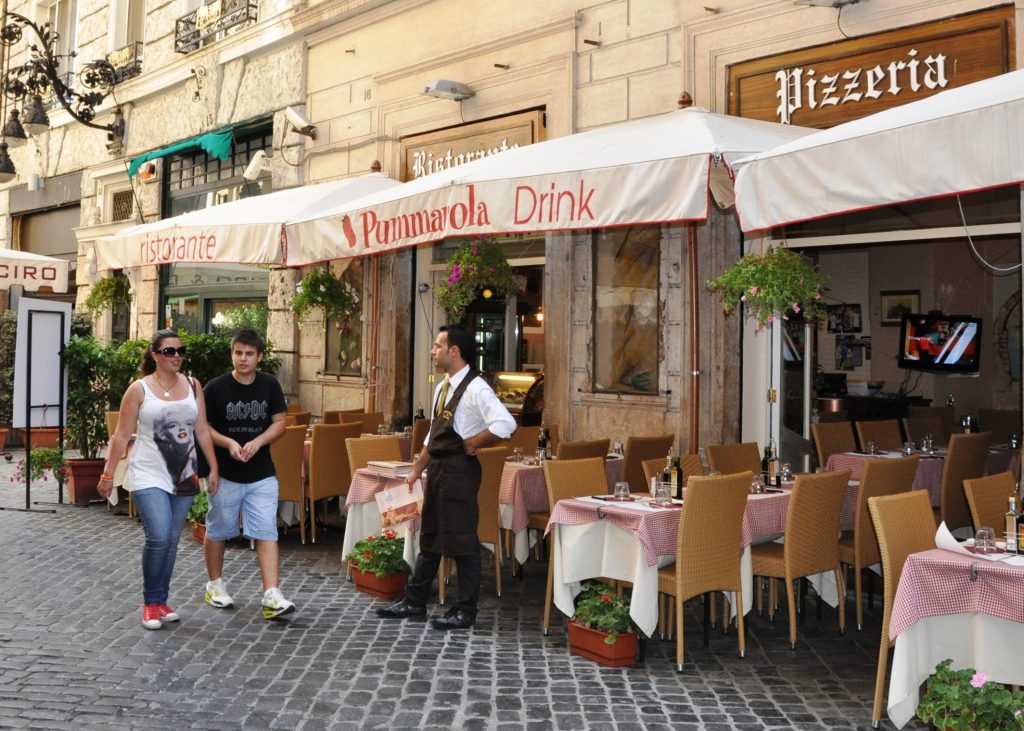 Tip #6: English menus are fine. Tourist menus are not.
If you see a sign like "MENU TURISTICA: 10 Euros for appetizer, pasta, and wine!", you're probably in trouble. Same if there are any photos on the menu.
But if you go inside and are handed an English menu, don't worry. Most restaurants do this these days.
Tip #7: Never look for a place to have dinner at 6pm… or 7pm (depending on where you are).
Or, really, anytime before 8pm — at least if you're in Rome or further south. As a general rule of thumb, if it's open that early, it'll be catering to tourists: southern Italians never eat before 8:30pm. Some savvy restaurants that remain solid, like the institution La Campana, do open earlier — they've realized it's a good way to get extra business. Still, it's a risk. And isn't part of the fun of traveling somewhere the fun of getting into local rhythms? (This changes the further north you go. In northern cities, like Milan, people tend to eat at 7:45pm or 8pm; in a sleepier rural area, say the Dolomites, it may be as early as 7pm. Earlier than that, though, is hard to find anywhere in Italy).
Eat when locals do, and you'll be far more likely to be surrounded by locals, not to mention have a better sense of which places are busy at an actual (local) dinner time — always a good sign.
Tip #8: Look for the crowd, and then be patient.
Remember, restaurants tend to be smaller in Italy and locals tend to linger longer over their meals. That means places fill up fast. So if a place is good, and if it's dinner time (see above), there's no reason it should be empty. Be wary if it is.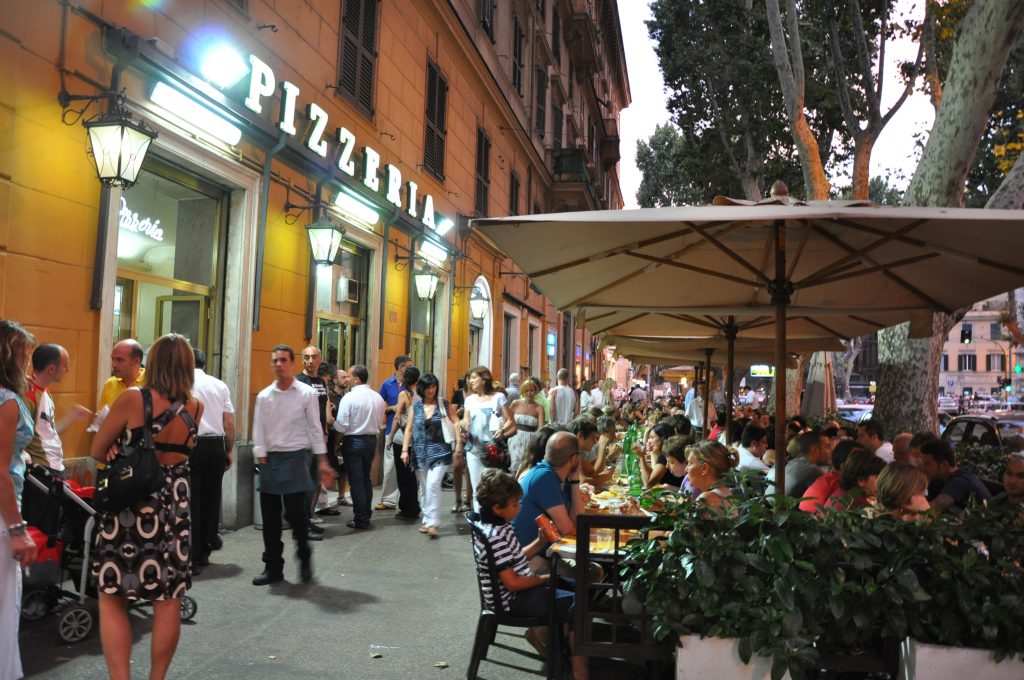 On the flip side? If it's 9pm and a place is popular, it may be tough to get in without a reservation. Often, though, you can put your name down and either hang out, or come back in a half hour or so. If you want to eat at good restaurants in Italy — and you didn't want to make reservations — then patience will be your friend.
Tip #9: Don't get hung up on the names.
Trattoria, hosteria, taverna… meh. Any difference there once was between these has pretty much slipped away. Just remember that a birreria is more a place for fried food and beer, that a "bar" isn't really a bar (it's what we'd call a cafe), and that most good pizzerias aren't open at lunch.
Finally, remember what you're looking out for: That hole-in-the-wall place that doesn't even look like a restaurant on the outside, but when you walk in (remember, at 9pm), it's bustling with Italians. Eat only at gems like these, and you're guaranteed to find good restaurants in Italy.
If you liked this post, you'll love The Revealed Rome Handbook: Tips and Tricks for Exploring the Eternal City, available for purchase on Amazon or through my site here!
How to Find Good Restaurants in Italy: 9 Top Tips