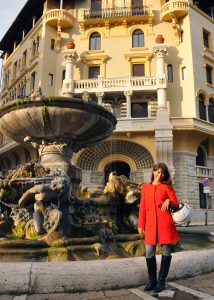 A BBC editor and journalist, travel writer and sometimes television host, I now live in the UK, where I work as a BBC editor and journalist, after more than four years of living in Rome. Italy remains close to my heart (and pen): I visit Italy five or six times a year, my husband is from Italy (and, of course, we got both engaged and married there!) and I write about Italy frequently for a variety of publications. You can read some of my recent work here.
I also have contributed to six different Fodor's guidebooks on Italy, Rome and Europe. I'm also the author of The Revealed Rome Handbook: Tips and Tricks for Rome and Beyond (currently at a 5-star average out of 85+ reviews on Amazon).
Before moving to Rome, I studied history at Yale and completed a M.Phil in international relations at Cambridge. You can find out more about me at amandaruggeri.com and see what trips and new projects I've been up to by following me on my Facebook page.
If you're looking for help planning your trip to Italy, I offer one-on-one travel consulting sessions.
As an aside: Please note that all text and photographs on this blog are copyrighted by me, unless explicitly noted otherwise. Please do not reproduce or use them without my permission. You can email me at revealedrome@gmail.com.