Churches in Rome aren't just holy sites. They're treasure troves of painting and sculpture, mosaic and relics, even ancient ruins. Oh, and they're free.
Which means you must visit at least some of them during your time in Rome.
The problem, of course, is that there are also hundreds of Rome churches…. literally. Which can make it a little tough to figure out which churches in Rome to visit.
Here is my list of 12 Rome churches that, whether because of their ancient ruins or 12th-century mosaics, happen to fascinate me the most. I've chosen ones that are beyond the obvious — so no, you won't find the Sistine Chapel and St. Peter's Basilica here.
If you make it, just make sure to double-check the opening times. There's nothing more disappointing than arriving at a Rome church midday, only to find it (or a key part of it) closed — and many of these smaller churches tend to shut from about noon to about four. Also, keep some change with you, as some of them have frescoes and mosaics that you can light up if you pop a coin in the machine.
The church in Rome I love because… it takes you back in time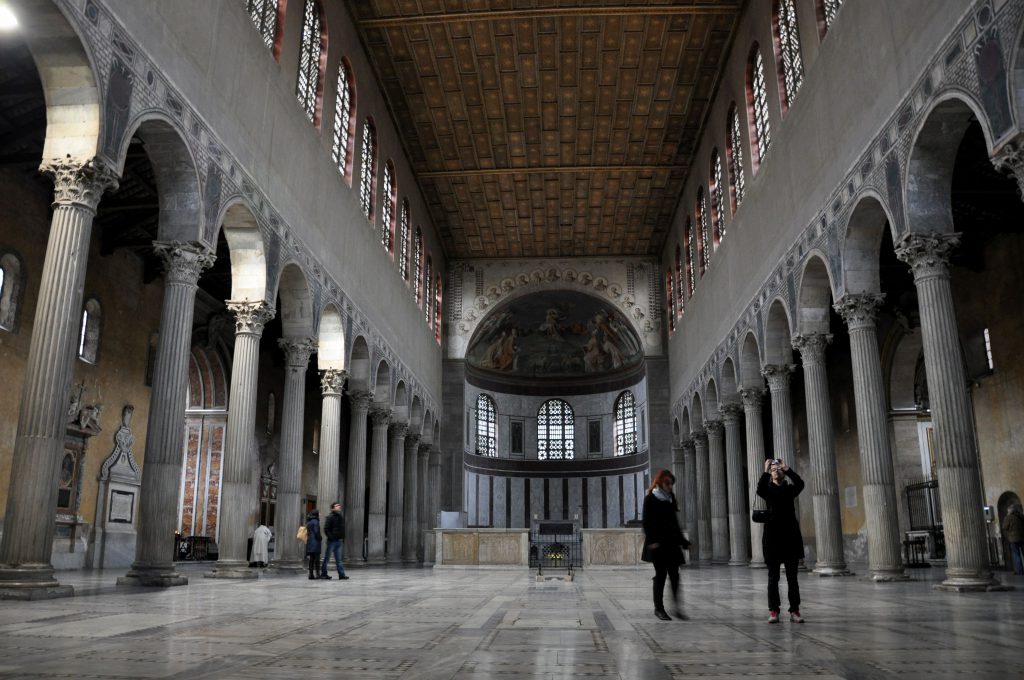 There aren't many churches in Rome that still look like they originally did — especially if they were first built in the 4th or 5th centuries. Most were significantly rebuilt later, especially in the Baroque period. (If you think every Rome church looks over-the-top, that's why. In that period they really went for… baroque. <sorrynotsorry>).
But not the Basilica of Santa Sabina, on Aventine hill. This 5th-century church has been left largely untouched — meaning you can experience an ancient church largely as it would have looked like at the very start of organized Christianity. It still has its original, elaborately-carved wooden door and mosaic dedication, a cell belonging to St. Dominic later turned into a chapel by Bernini, and even underground 4th- to 2nd-century B.C. ruins (accessible by tour only).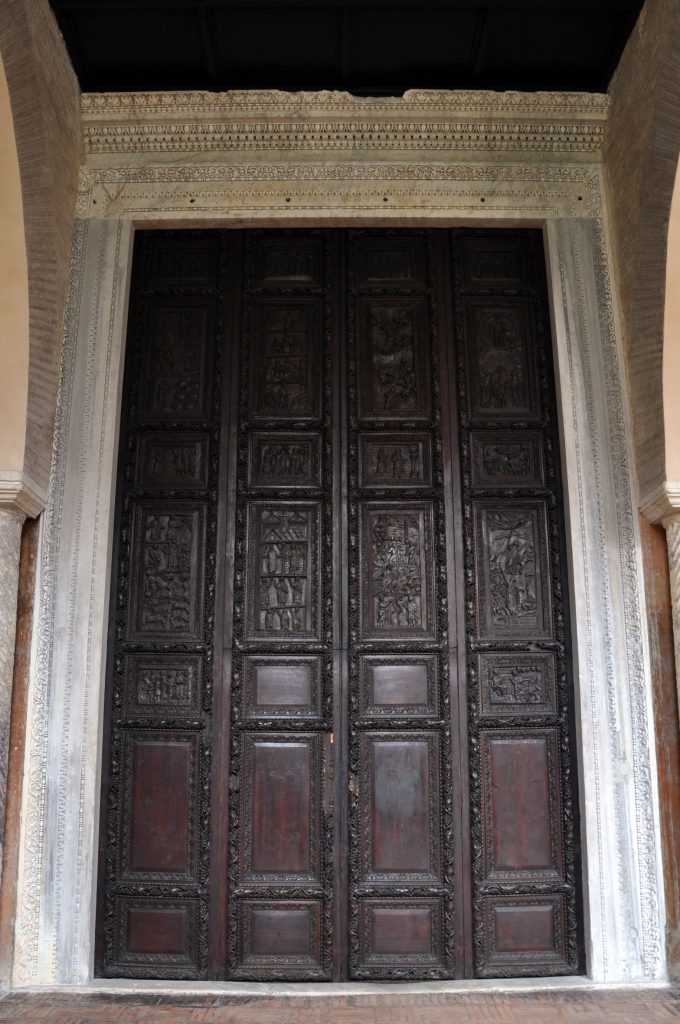 You don't have to be an organized-religion lover to love this church. You just have to enjoy time travel.
Pro tip: After visiting the church, head next door to the Garden of Oranges for beautiful views of Rome — and then to the keyhole at the Order of the Knights of Malta for a very special photo op.
The church in Rome I love because… it's different from the rest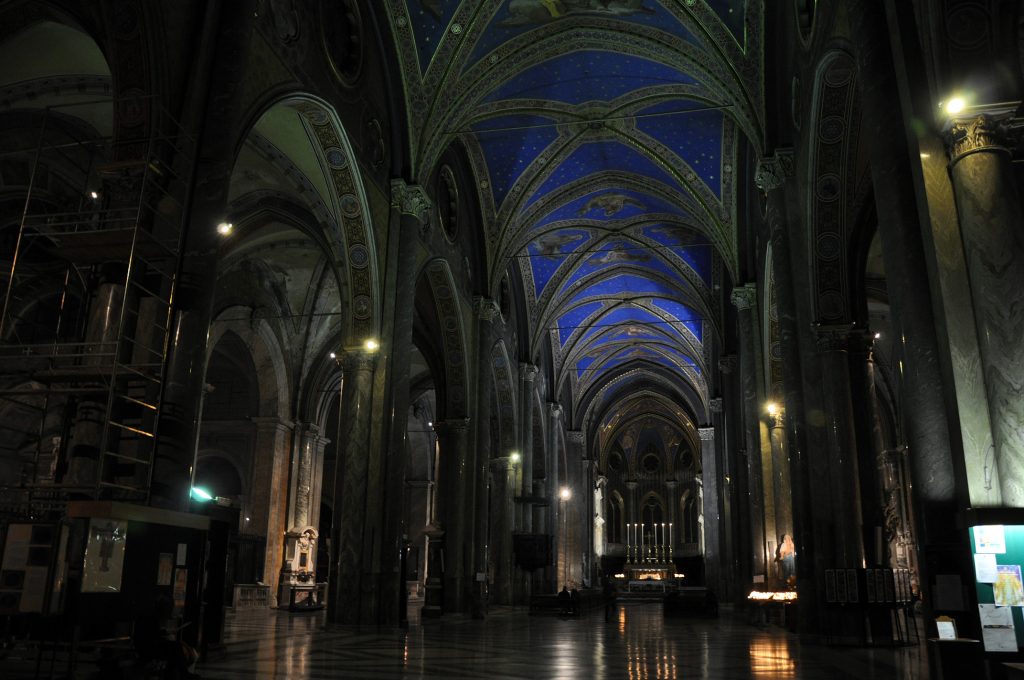 This stunning church is one of Rome's very few Gothic churches, meaning it has a completely different style (one much more at home in, say, Paris) than the rest. I also absolutely adore its night-sky ceiling — that blue is such a vivid splash of color.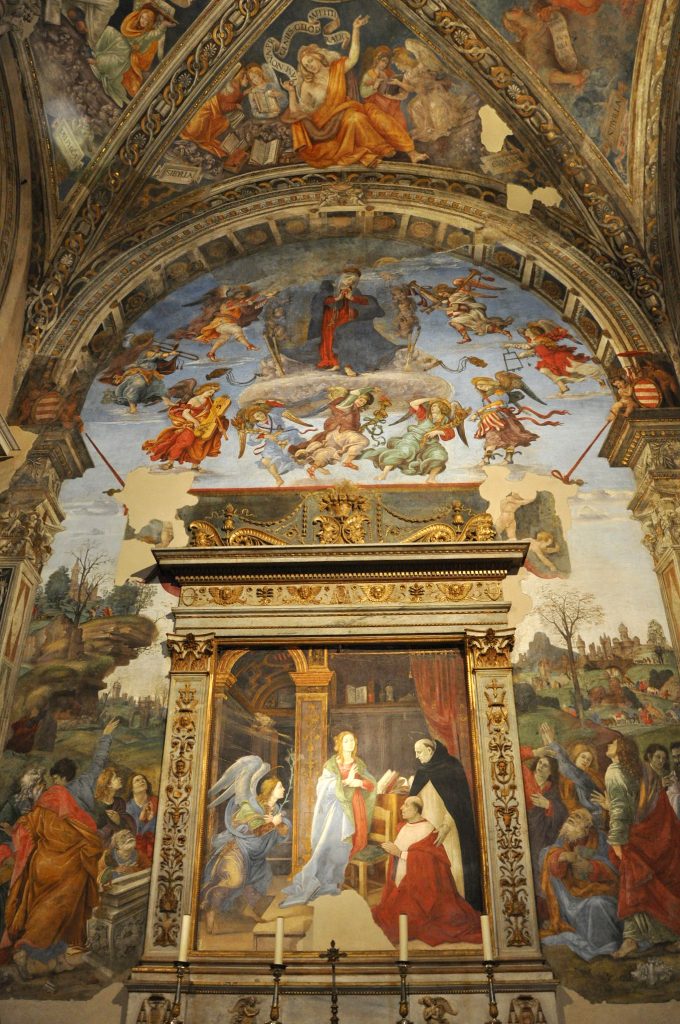 But that isn't all that Santa Maria Sopra Minerva has to offer. It's also got a sculpture by Michelangelo (…okay, more likely by his students), the body of St. Catherine of Siena (her head is in Siena…), and my favorite: lovely 15th-century frescoes by Filippino Lippi. They're as beautiful as any Botticelli, and much more overlooked.
If that weren't enough, I guarantee you'll be passing right near this church anyway — it's next to the Pantheon.
Pro tip: Don't miss the bizarre sculpture of an elephant holding up an obelisk outside. The elephant is by famed Baroque sculptor Bernini — and the Egyptian obelisk dates back 2,500 years.
The church in Rome I love because… it has the most gruesome artwork you've ever seen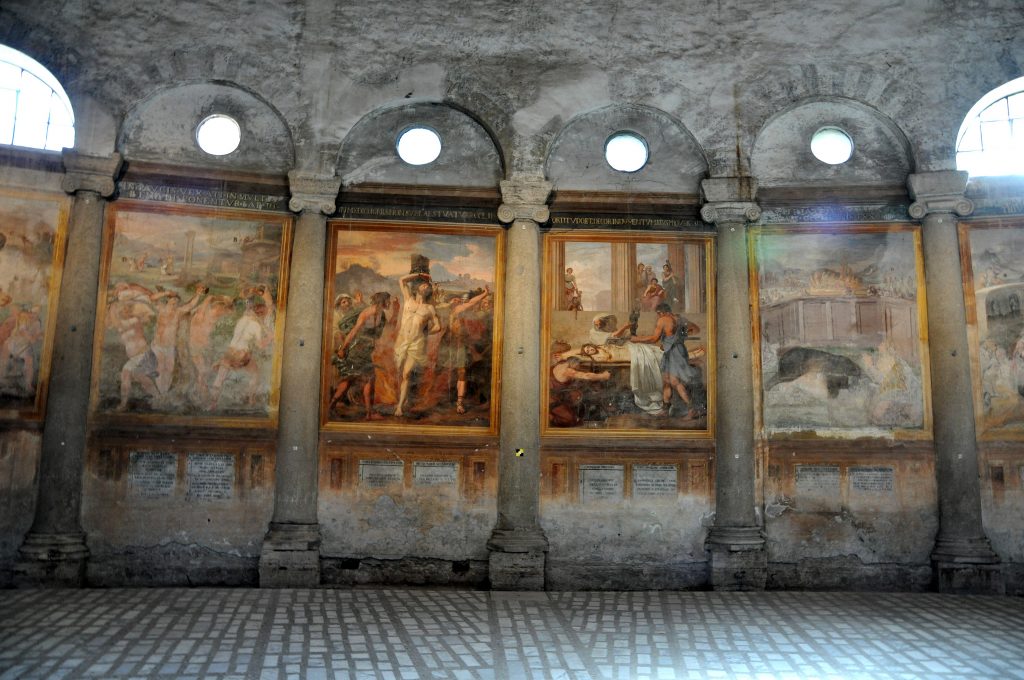 For strong stomachs only, the Basilica of Santo Stefano Rotondo, on the Celian hill, is decorated with 34 16th-century graphic frescoes depicting martyrs in all stages of torture. Even for the martyrdom-loving Catholic Church, it's a pretty unusual sight.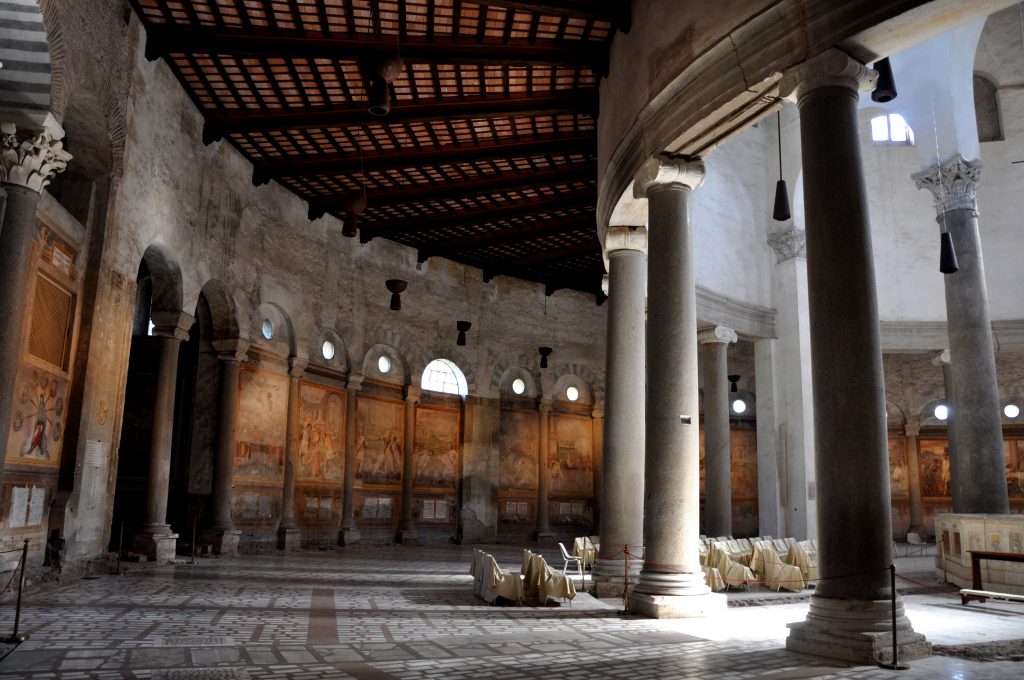 For those less gruesomely inclined, there's another great reason to go: one of of few round churches in Italy, it was modeled after the Holy Sepulchre. Dating back to the 5th century, it still has a 6th-century mosaic too.
Pro tip: It's easy to take an off-the-beaten-path stroll that hits up Santo Stefano Rotondo, San Clemente and Santi Quattro Coronati (see below).
The church in Rome I love because… it's more like a castle (complete with medieval frescoes)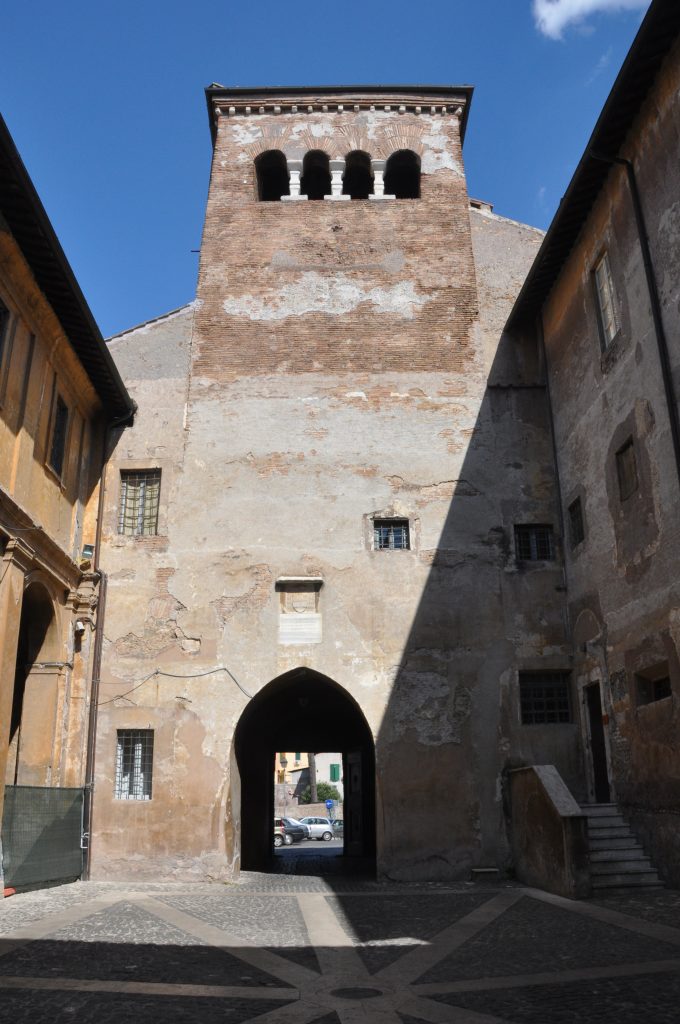 Looming over the neighborhood of the Celio, in the shadow of the Colosseum, the Basilica of Santi Quattro Coronati looks like nothing so much as a medieval castle. There's reason for that: After it was sacked by the Normans (along with the rest of Rome) in the 11th century, it was rebuilt with fortifications.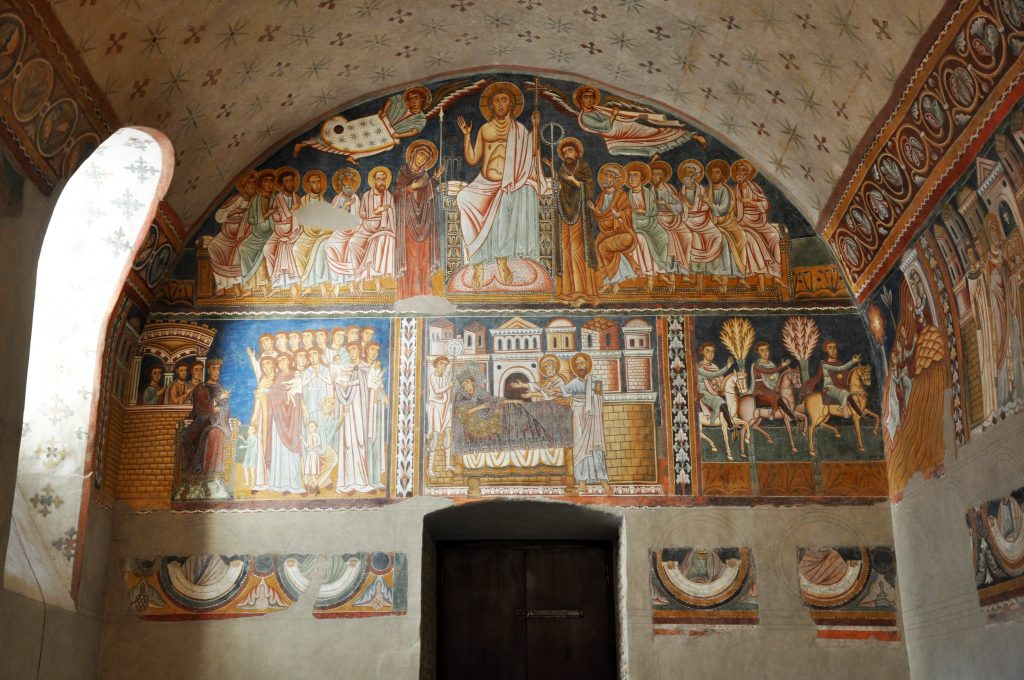 Still a cloistered convent today, it has a lovely Romanesque courtyard. But the real seller is the Chapel of St. Sylvester, which has a gorgeous 13th-century cycle of frescoes that are in a remarkably vivid and well-preserved state.
The church in Rome I love because… it's a layer cake of historical eras
Just up the street from the Colosseum, the Basilica of San Clemente is a 12th-century basilica… built on top of a 4th-century basilica… built on top of first-century Roman buildings, including a Mithraic temple. Admire the gorgeous mosaic on the top floor, then descend below. It's one of the coolest underground sites in Rome.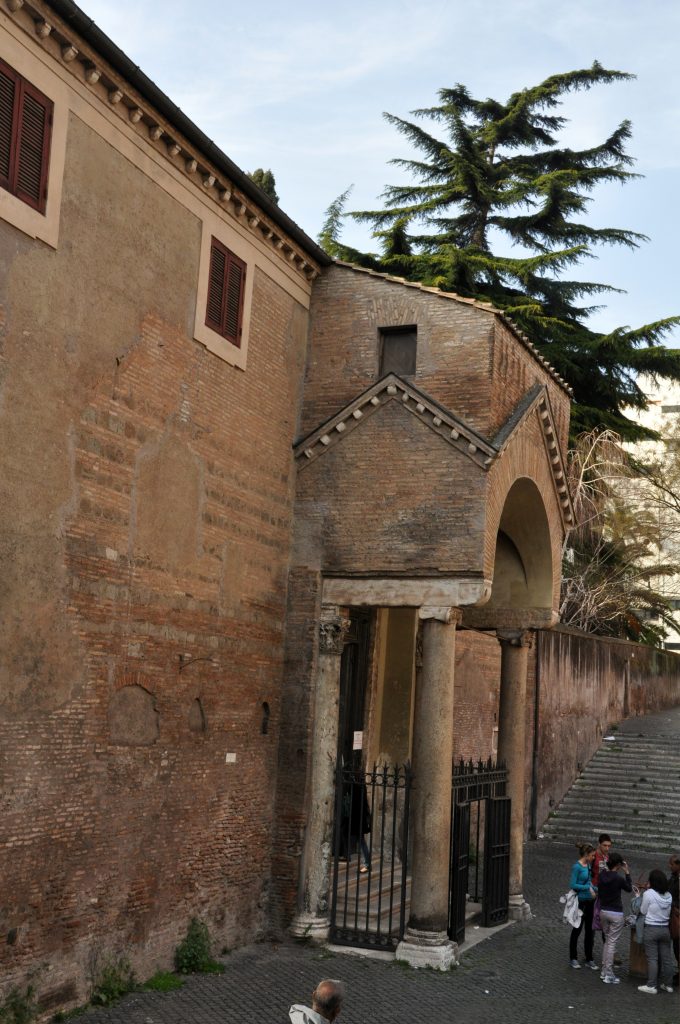 The downside? The cost. A couple of years ago, they upped the entrance to a hefty €10. That shouldn't keep you from going in — even in a city as rich with history as Rome, this church really is unique. It does, though, mean I'd strongly recommend that you either take a guided tour or pick up a guide in the gift shop before you go down. It can be confusing to figure out what's what otherwise.
The church in Rome I love because… you can walk on ancient Roman street — underground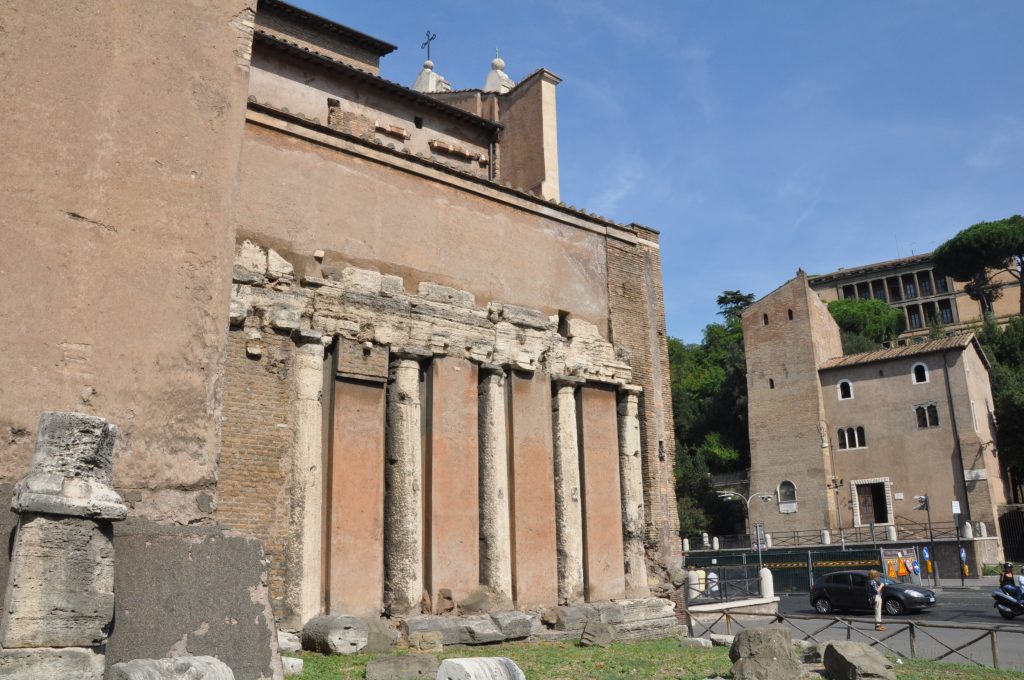 What makes the Basilica of San Nicola in Carcere unusual is that it was built incorporating three ancient, Republican-era temples — and you can still see their columns in the exterior.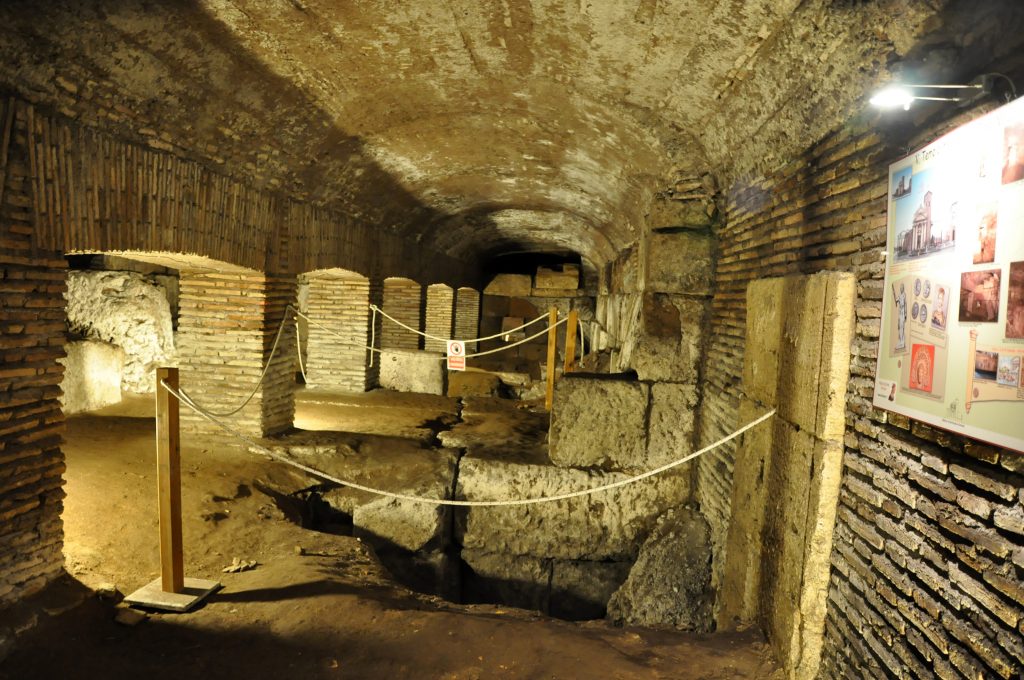 Plus, for just a couple of euros, you can descend into the underground to see the temples' podiums and even ancient money-changers' stalls. (Compare that to San Clemente's new, steep €10 price…).
Pro tip: You're around the corner from the Jewish Ghetto here, a lovely place for a stroll — and a strong choice for food. Give the tourist traps on Via Portico d'Ottavia a skip and head to Al Pompiere instead.
The church in Rome I love because… it's completely off the tourist path
To be fair, most of my favorite churches in Rome are. But because it's just out of the center — in an area frequented by students, not tourists — this is one that feels even more like a local secret.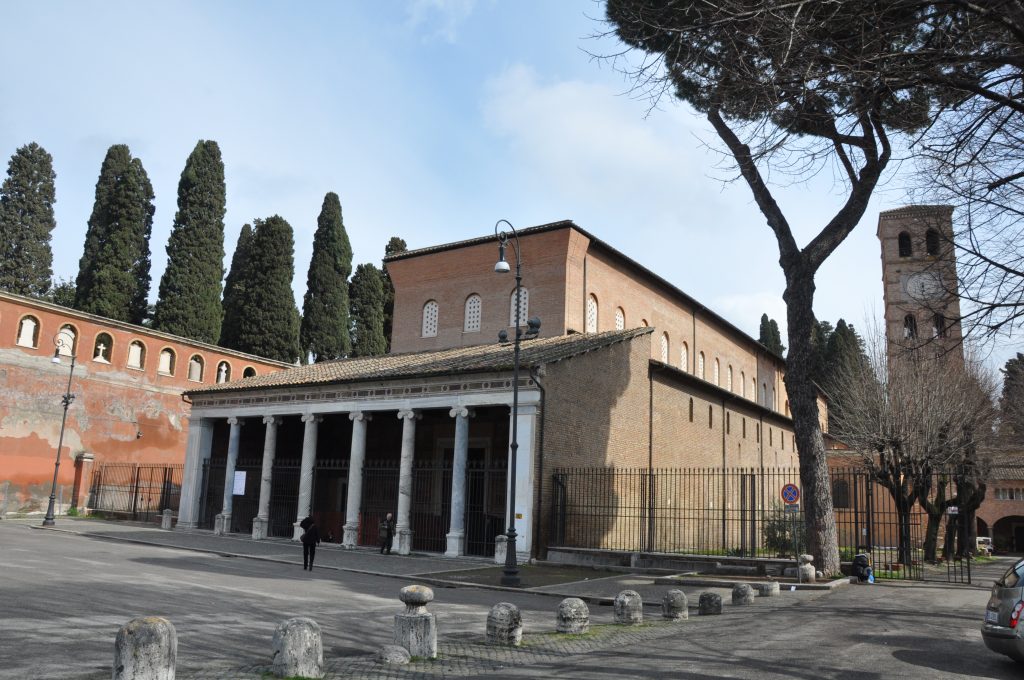 San Lorenzo fuori le Mura is a 5th-century church with vibrant Byzantine mosaics. And the remains of St. Lawrence, St. Stephen and St. Justin. And 13th-century frescoes on the exterior (below). And the slab on which Lawrence was ostensibly grilled to death in the 3rd century.
If that weren't chilling enough, there's always the cemetery next door to take a stroll in, too.
The church in Rome I love because… it's as pretty inside as its courtyard is outside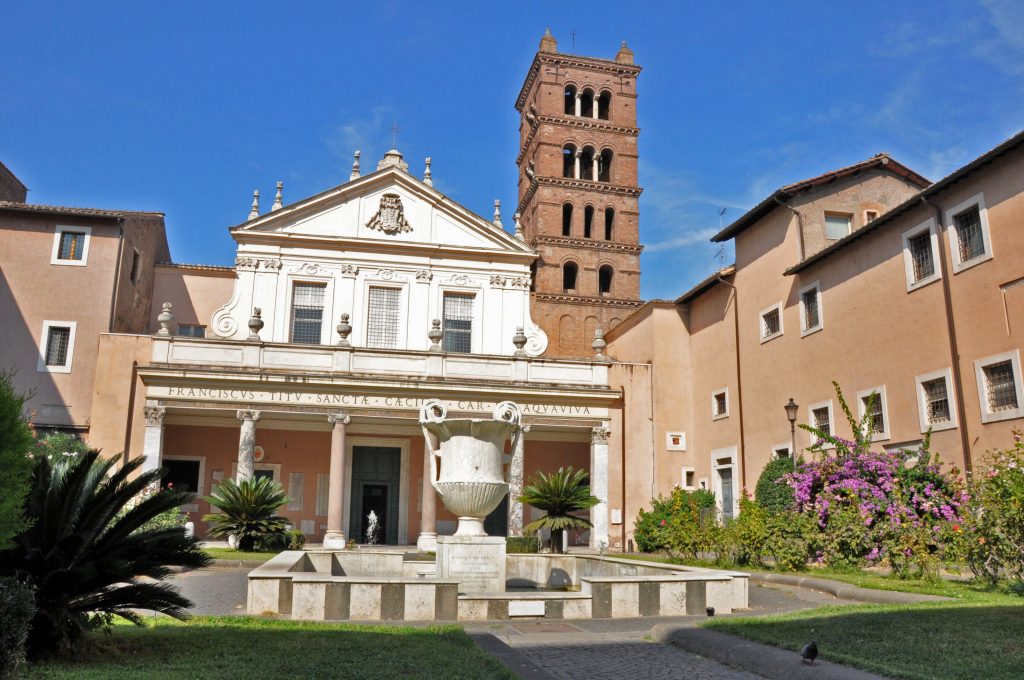 Built in the 9th century, on the spot where St. Cecilia was martyred in the 3rd century, the Church of Santa Cecilia in Trastevere has a laundry list of extraordinary objects. That includes a beautiful 9th-century mosaic, 13th-century frescoes by Pietro Cavallini, and excavations of two ancient Roman houses below that you can visit. It also has a famous sculpture by Maderno of Cecilia's body as it was found — incorrupt — when exhumed in 1599. Not to mention one of the prettiest courtyards I've ever seen (above).
If you only make a couple of stops in Trastevere, this should be one of them. Truly.
The church in Rome I love because… those mosaics though
It's true that several churches in Rome have extraordinary Byzantine mosaics (see: Basilica of San Clemente, Basilica of Santa Prassede, Basilica of Santa Costanza…). But. It's hard to beat the number, or quality, of glittering mosaics here at the Basilica of Santa Maria in Trastevere. The outside is decorated with 12th-century mosaics; the inside, 13th-century mosaics by the famed artist Cavallini.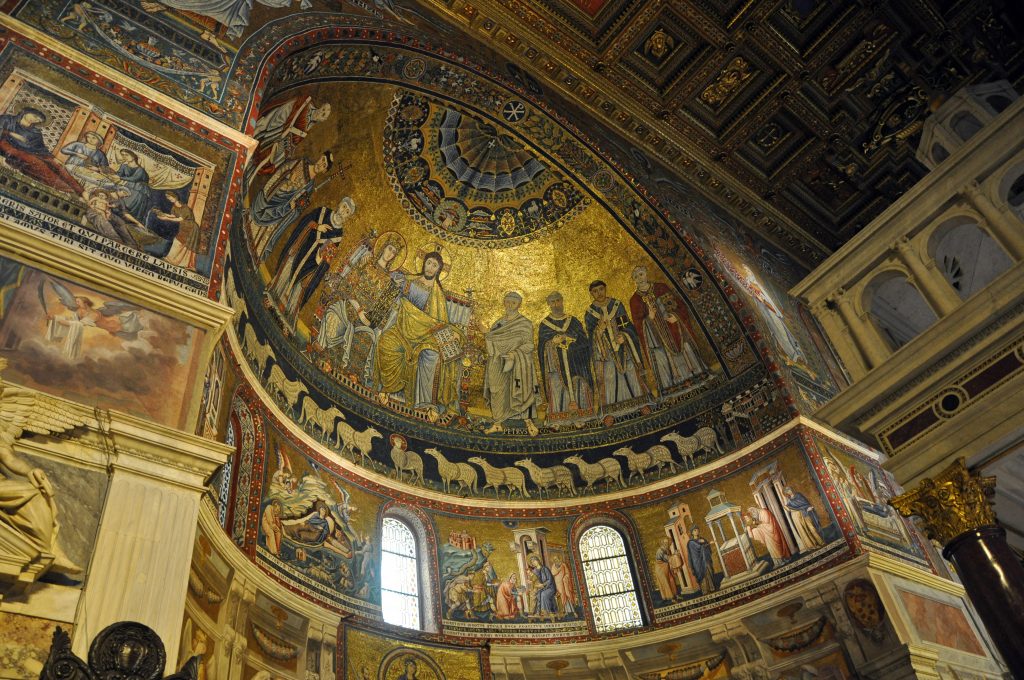 If that weren't enough, this 4th-century church could be the first church in Rome in which Mass was openly celebrated. And it overlooks one of the loveliest, liveliest piazzas in not just Trastevere, but all of Rome, with the streets surrounding filled with restaurants and bars — meaning it's the perfect place to duck in for a look-see before aperitivo or dinner.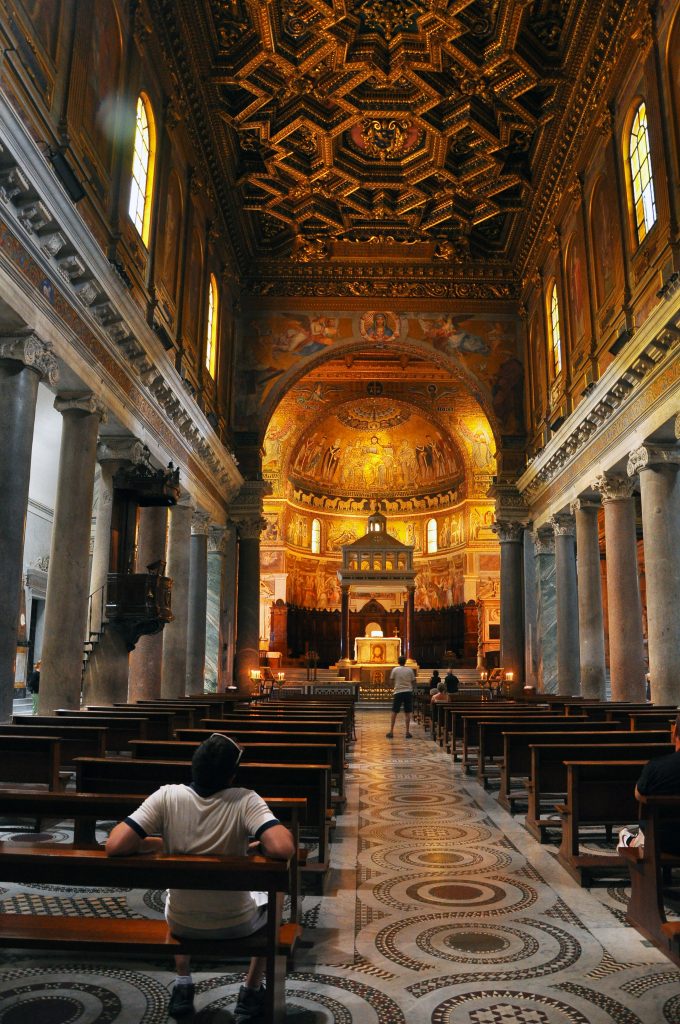 The church in Rome I love because… it's survived the Mafia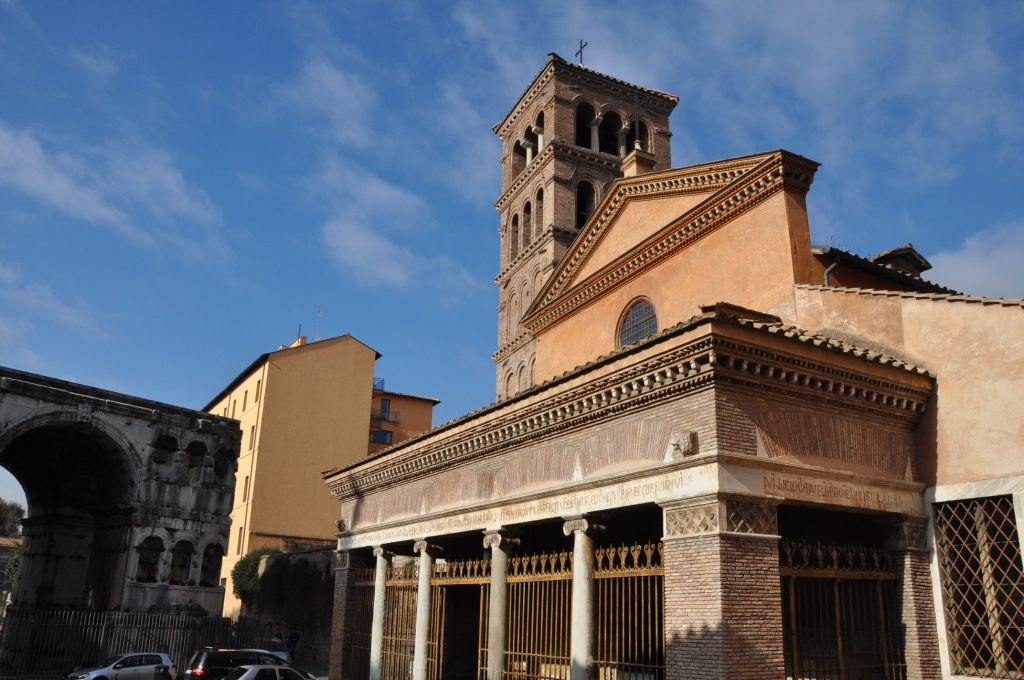 Don't let its seeming simplicity fool you: San Giorgio in Velabro is a gem. Built in the 5th-century, today it's a thoroughly Romanesque church, albeit one that boasts the bones of St. George and lovely frescoes from 1300. And, having survived a Mafia car bomb in 1993, it gets major points for endurance.
Pro tip: Take a close look at the ancient arch seemingly built into the left side of the church's exterior. In particular, look for the spots where it seems like people were carved in, then scratched out. That's because they were. After he became emperor, Caracalla had all memory of his brother — who he had killed — erased from monuments like this one.
The church in Rome I love because… it's like a little jewel box
Often overshadowed by its larger, more famous neighbor, the Basilica of Santa Maria Maggiore, the Basilica of Santa Prassede on the Esquiline (at the edge of Monti) is absolutely worth adding to your list. (Think of it as the Sainte-Chapelle to Notre Dame: Yes, you have to visit both, but who doesn't love the Sainte-Chapelle even more?)
It's pretty nondescript from the outside, but don't let that fool you.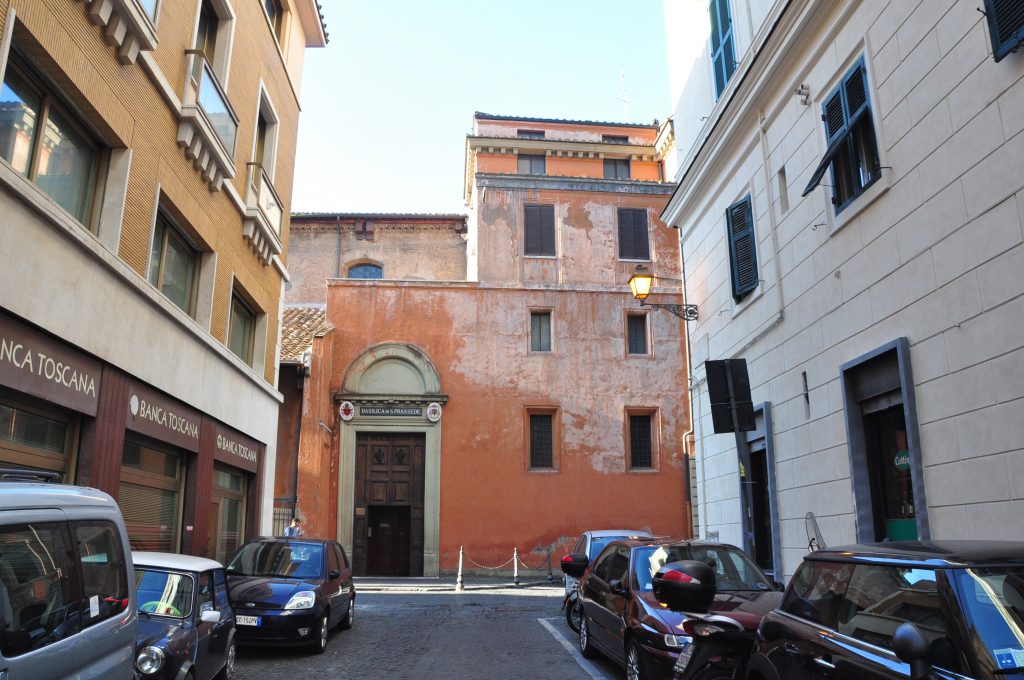 A 9th-century church that still retains its original frescoes and mosaics, this Rome church is a gem that, literally, sparkles. (This is one where you definitely want to bring some change to light up the mosaics).
Built on the spot where tradition holds Prassede hosted St. Peter in her house, it also has the tombs of the saints Prassede and Pudenziana. But, really, it's all that glittering gold that gets me every time.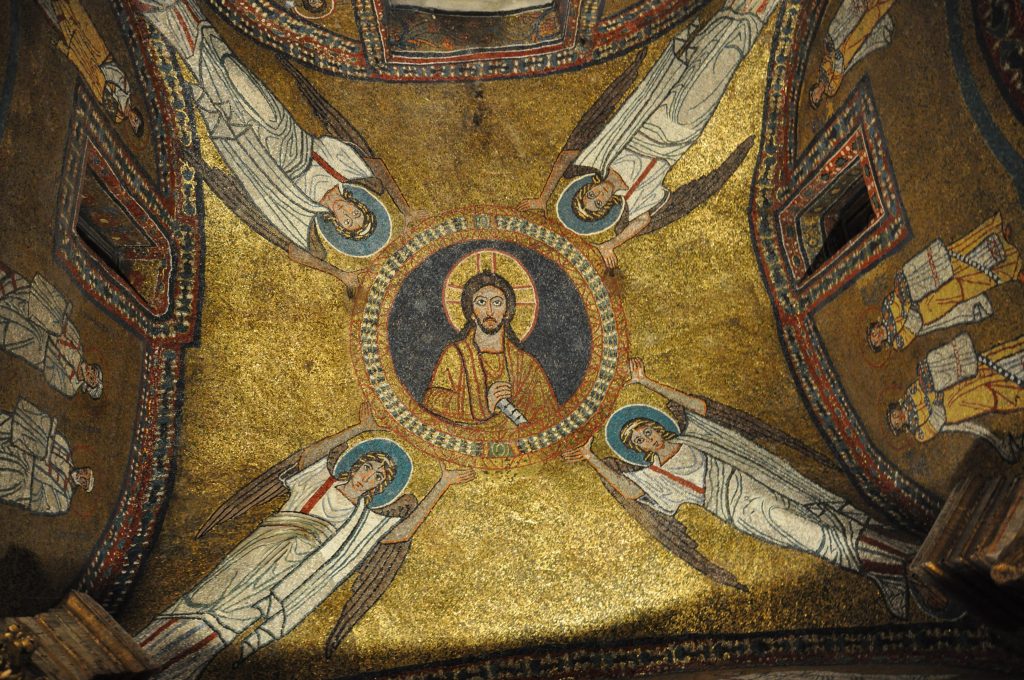 The church in Rome I love because… it's an homage to an ancient 'princess'
While it's a little off the beaten path — albeit near the catacombs of Sant'Agnese, for anyone making a catacombs stop — it's well worth the visit.
Rome's only other round church, the Basilica of Santa Costanza was originally built as a mausoleum for Emperor Constantine's daughter in the 4th century. Today, it's one of Rome's oldest churches. It's also the only other round church in Rome, along with Santo Stefano in Rotondo (see above).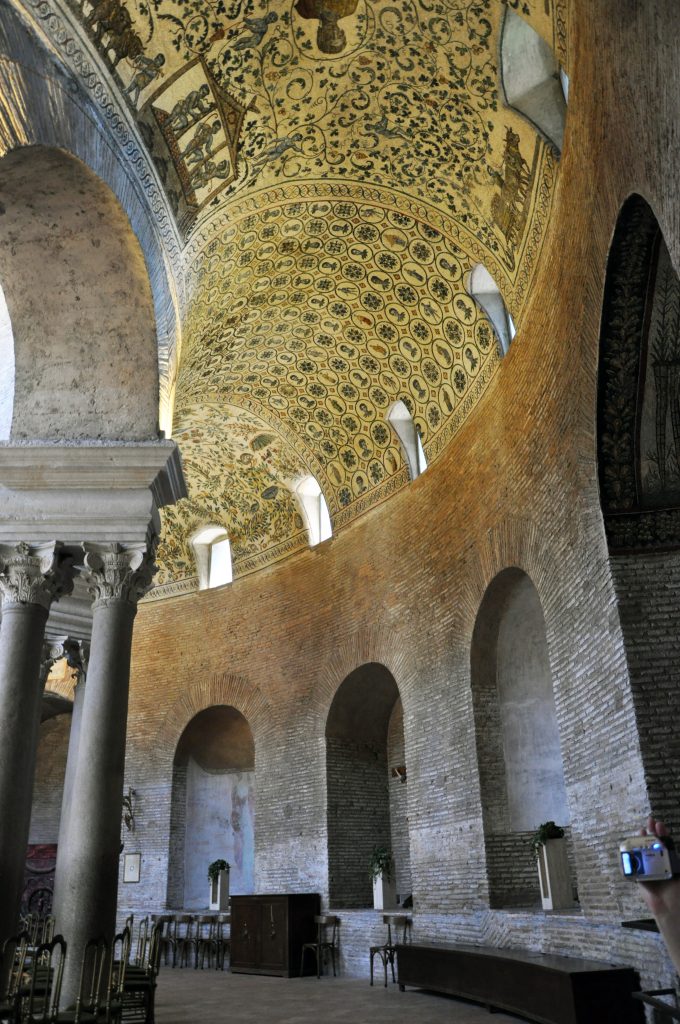 Better yet, it still has its original mosaics from the period, meaning it's a fascinating stop for anyone interested in how Rome turned from paganism to Christianity.
Liked this post? You'll love The Revealed Rome Handbook: Updated, Expanded and New for 2017/2018, which includes many more tips and tricks like these in more than 200 information-packed — but never overwhelming! — pages. It's available for purchase on Amazon or through my site here. I'm also free for one-on-one consulting sessions to help plan your Italy trip.