If you'll be in the city for more than a couple of days, visiting the Jewish Ghetto in Rome is a must. As well the oldest Jewish settlement in all of Europe (dating back to the 2nd century B.C.) — and, as you might expect, home to a striking synagogue, kosher bakeries and Jewish-Roman trattorias — it isn't only worth a stop for visitors interested in Jewish history.
That's because the Jewish Ghetto is also one of the loveliest, most atmospheric areas of Rome. Compact and very pedestrian-friendly, it's one of my favorite places for a stroll.
Visiting the Jewish Ghetto in Rome? Here are a few things to know first. (After you read this, don't miss my follow-up post on what to see in the Jewish Ghetto).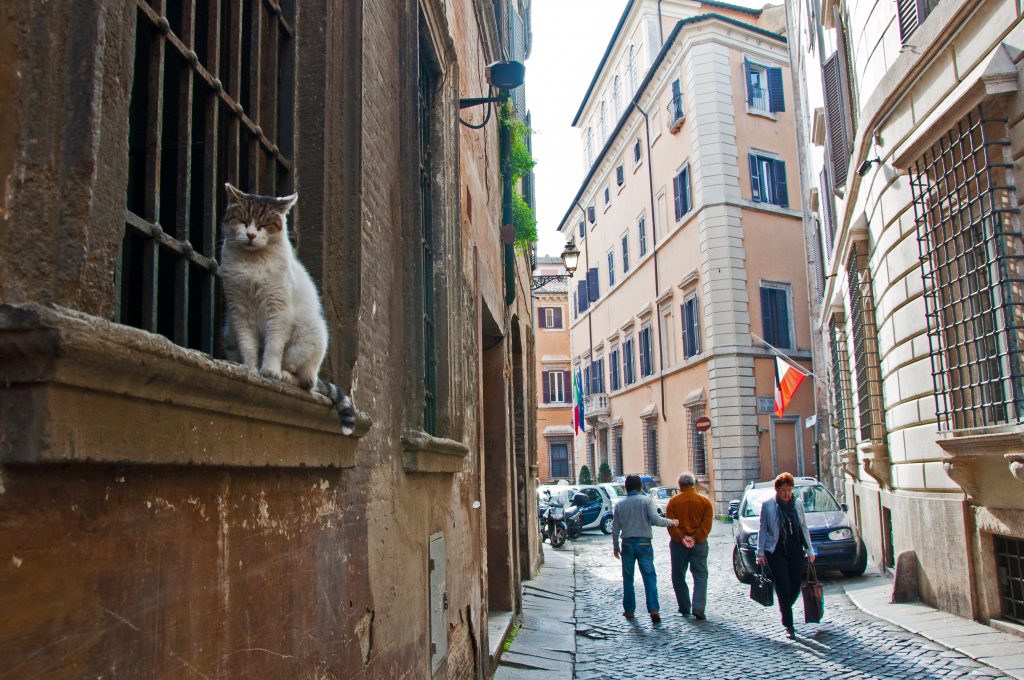 The Jewish Ghetto in Rome today
The biggest misconception about the Jewish Ghetto has to do with its name. The word "ghetto" (understandably) tends to throw up some confusion.
First, no: the "Jewish Ghetto" is not an inappropriate nickname. That's what the neighborhood is called, and what locals (and Jewish locals) call it. Second, it's not a "ghetto" in the modern sense — though it has its own very sad history of discrimination and poverty.
In the 16th century, the quarter was walled off as the residential area for Rome's Jews, a heart-wrenchingly common occurrence in Italy and, of course, across Europe. (In fact, the word ghetto is an Italian word: the first Jewish ghetto was in Venice, in the quarter known today as Canaletto). Today, it's an extremely safe, very well-heeled quarter of the city.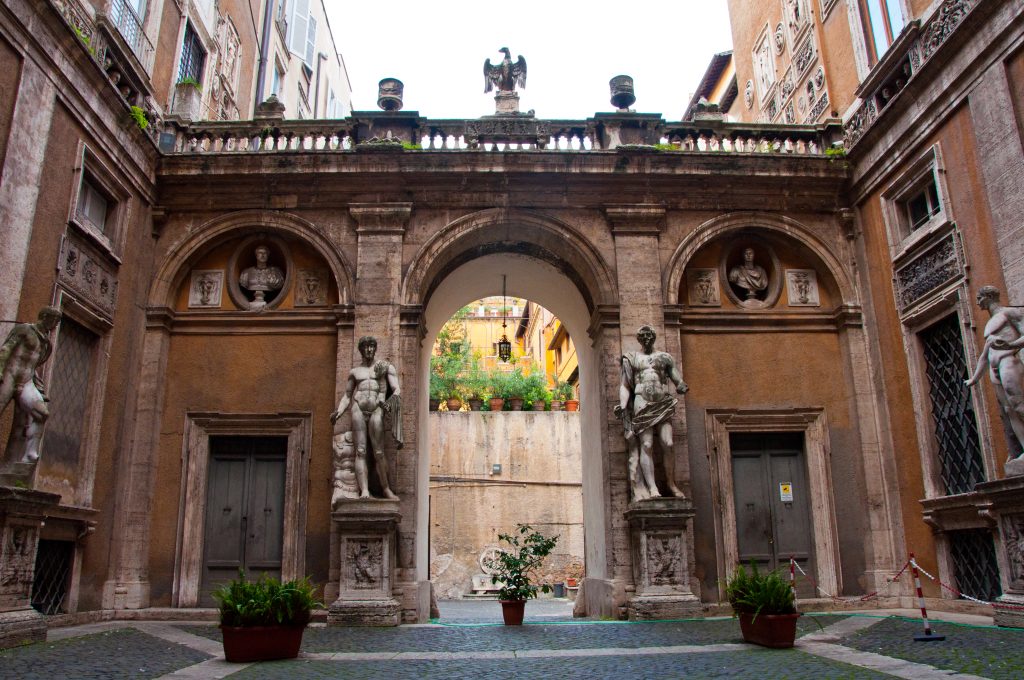 The other thing to keep in mind when you visit the Jewish Ghetto is that this is the spiritual and cultural home of Jews in Rome. And that's a big deal. Rome is the longest-running home of Jews in all of Europe — thanks to the less-happy fact that they were brought over as slaves in the 2nd century BC.
But when you visit the Jewish Ghetto today, remember that, despite the towering synagogue and the kosher restaurants, it's a far cry from the thriving, bustling Jewish community it would have been a century ago.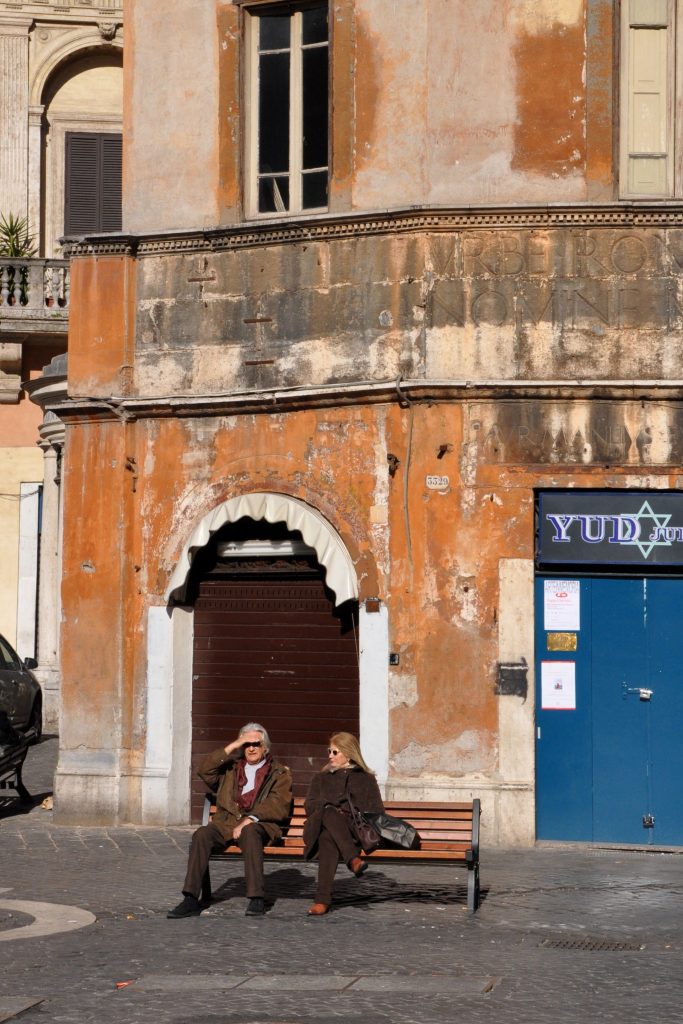 About 2,000 Jews of the area's 7,000 were rounded up in a single day in 1943 and sent to concentration camps. Only 16 survived. Today, Rome is said to have less than 20,000 Jewish residents, only a few hundred of whom live in this quarter.
So what is the area like today? Though guidebooks will tell you it's off the beaten path, remember that it's only relatively so, compared to other central areas. This is still an area very much on the tourist radar.
As a result, you need to be just as smart — particularly about where to eat — as you would in other central, touristic areas of Rome. That includes treating the Via del Portico d'Ottavia, the main tourist stretch which is lined by restaurants, like… a main tourist stretch lined by restaurants. They're mostly touristic and mediocre (yes, even the famous ones that people mysteriously still rave about on TripAdvisor), with one exception — the new-ish arrival BellaCarne. More on where to eat in a future post.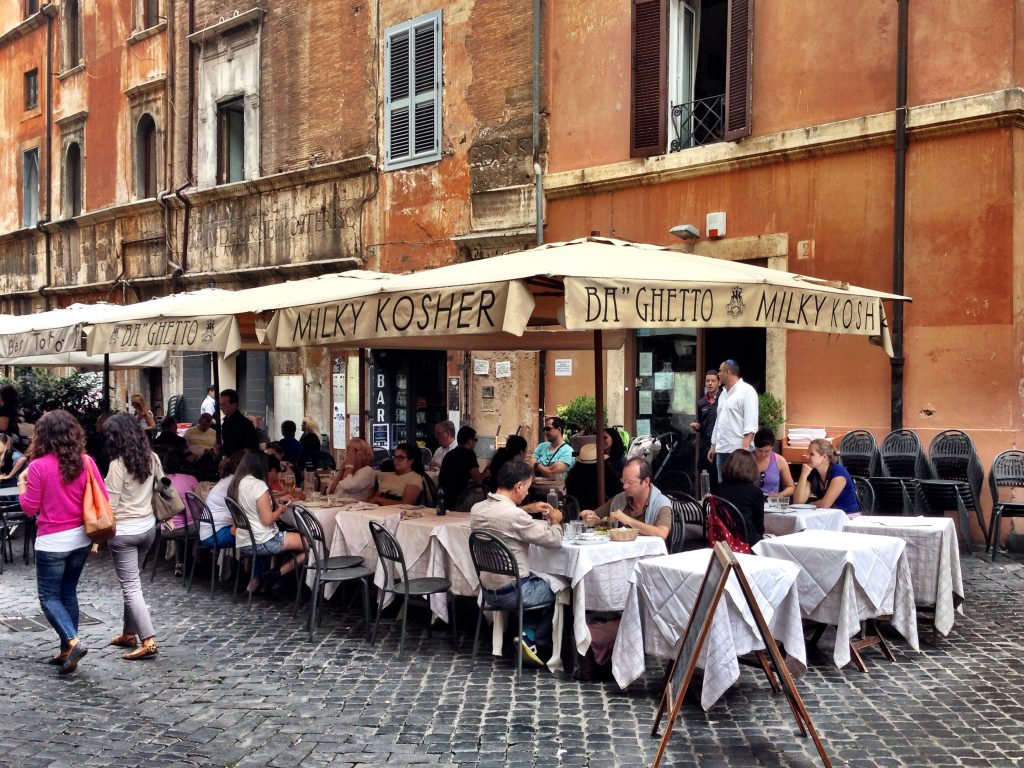 That being said, it's also a stunning little area filled with cobblestoned streets, ancient ruins and hidden corners. That makes it well worth a visit, especially because…
Where is the Jewish Ghetto in Rome?
…you'll probably be walking right by anyway.
Really. That's part of why I hate to even say you should add the Jewish Ghetto to your list in Rome. That makes it sound like an effort — as if the Jewish Ghetto is located far away from other sights, or requires a whole day to visit. Neither are the case.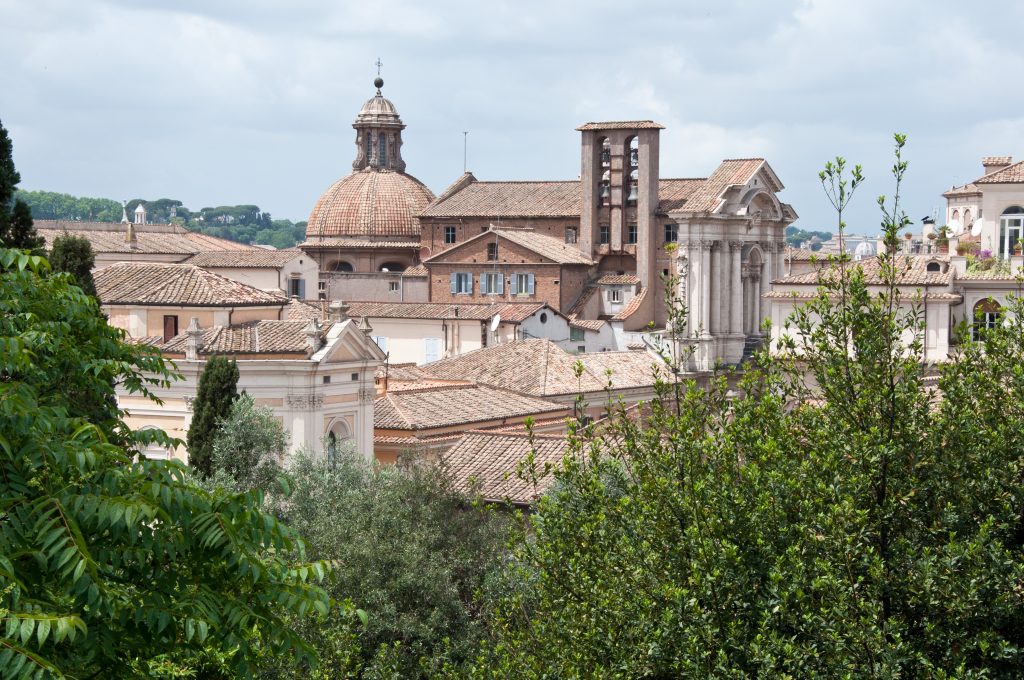 Located a stone's throw from Piazza Venezia and Capitoline Hill, this neighborhood couldn't be more central. If you're trying to pinpoint it on a map, look for Piazza Venezia and the Vittorio Emanuele monument. The Jewish Ghetto is the rectangular-shaped area just west and south, bordered by Via delle Botteghe Oscure (on the north), Via Arenula (west), the river (south), and Via del Teatro di Marcello (east).
How should I plan to fit the Jewish Ghetto into my sightseeing schedule?
From the geography, you can see that it's usually most convenient for people to visit before, or after, they've visited Trastevere (just over the river), Campo dei Fiori (just west), the Capitoline Museums (in the northeast corner), or the Mouth of Truth (just south) — but it's equally easy to tack on after a morning visiting the Forum, central sites like the Pantheon and Piazza Navona, or, really, anywhere else in Rome's center.
If you're looking for easy public transport, anything that takes you to Largo Argentina or Piazza d'Aracoeli, two major hubs for buses and trams in Rome, are a good bet.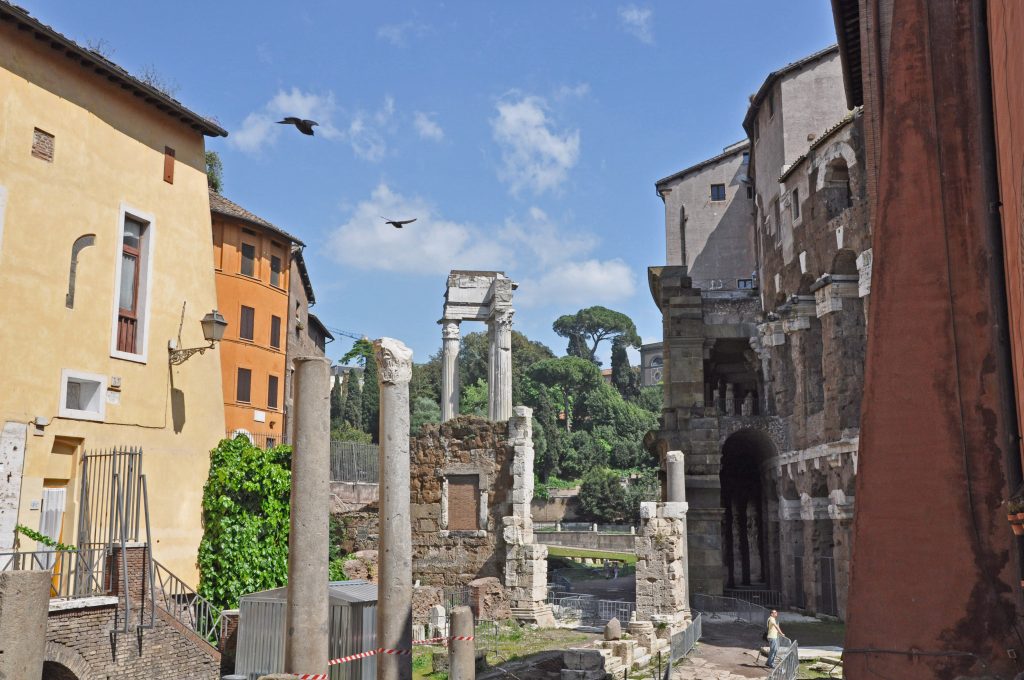 Once you're here, you can actually walk from one end of the area to the other in about 15 minutes. But to properly explore the area's offerings, including its ancient ruins like the above, give yourself at least an hour or two. Add another hour if you'd like to see the synagogue or have a meal.
Do I need to book anything in advance in the Jewish Ghetto?
Although the location and size mean that visiting the Jewish Ghetto doesn't require a great deal of advance planning, there's one exception. Because this is a historically Jewish area, many restaurants are closed on Friday evening and through Saturday. (This makes it a good place to visit on Mondays as well, of course, as on Christian holidays, when many restaurants elsewhere in Rome can be closed). And because so many of the restaurants here aren't great, the handful of good ones do get booked up — so, particularly for dinner or if you're traveling in a group larger than a couple, I'd highly recommend booking in advance.
Now that you know the basics of visiting the Jewish Ghetto, stay tuned for an upcoming post on what to see.
Also: how should I schedule my sightseeing in Rome?, a fun tour of Rome's hidden ancient spots and what to do in Rome when you've done… everything.
Liked this post? You'll love The Revealed Rome Handbook: Updated, Expanded and New for 2017, which includes many more tips and tricks like these in more than 200 information-packed — but never overwhelming! — pages. It's available for purchase on Amazon or through my site here! I'm also free for one-on-one consulting sessions to help plan your Italy trip.