Having trouble figuring out Rome airport is best to fly into — or which airport is most central? I don't blame you. Rome has not one, but two, airports — Fiumicino (FCO) and Ciampino (CIA) — and they're both international. So how do you decide between them?
First of all, keep in mind that you may not have to decide. If you're coming straight from the US or Canada, your flight will land at Fiumicino. Easy.
But if you're coming from Europe or elsewhere, you may have the option. Here's how to decide which Rome airport is best to fly into.
Fiumicino is the main international airport (but still not huge)…
Both airports serve airlines from all over. But when people talk about Rome's "international" airport they usually mean Fiumicino, Rome's main international airport. If you're flying an airline like Alitalia, American Airlines or British Airways, you'll be coming into Fiumicino.
Still, compared to international airports like London Heathrow, Fiumicino isn't huge. There are four terminals, three of which are in the same building; only one, Terminal 5 (which serves passengers coming from the US and Israel), requires a short shuttle bus to get to. I find the size to be nice. It's small enough that it's always very easy to find someone after they've landed (and to navigate yourself), but large enough that it has some nice shops while you're waiting for your flight. And I don't know about you, but I'm always glad that I don't have to walk 30 minutes from the gate to the exit.
However, this means a much longer wait at security, and massive passport control lines.  If you are flying out, give yourself at least the recommended 2 hours to avoid any surprises (and have time for a glass of wine).
…while Ciampino airport is very small.
Ciampino has only 16 gates (Fiumicino has 36), all in one building. The good news: If you're ever meeting someone here, it's even easier than Fiumicino! The bad news: The amenities are next to nothing. This is not an airport for shopping at duty-free designer stores and getting a nice glass of wine. It's an airport for flying. Expect no more.
Fiumicino serves the big-boy airlines (and some budget flights)…
Air Canada, Air China, Air France, Alitalia, American, British Airways, Delta, Emirates, Lufthansa: All the big guys fly into Fiumicino. Confusingly, Fiumicino also serves budget airlines like Easy Jet and Ryanair.
…while Ciampino caters only to the budget flights.
Ciampino, on the other hand, only provides for budget airlines: Easy Jet, Ryanair and Wizz Air.
That means there can be more hassles at Fiumicino airport…
As the larger airport, Fiumicino obviously serves more passengers. That means longer lines at immigration than at Ciampino; the wait for luggage also always seems to take forever. And, mysteriously, at least one escalator never seems to be working. If I had to rank Fiumicino between other airports, I'd say it's much cleaner and more functional than JFK or La Guardia, but has a long way to go to match many of its European counterparts.
…but both Rome airports have their inconveniences.
For one thing, if you fly into Ciampino, you're flying a budget airline — which means you're guaranteed a number of hassles (like being allowed to take only a single piece of anything onboard and having to pay a steep fee for a checked bag). For another, there's transport. But more on that in a moment.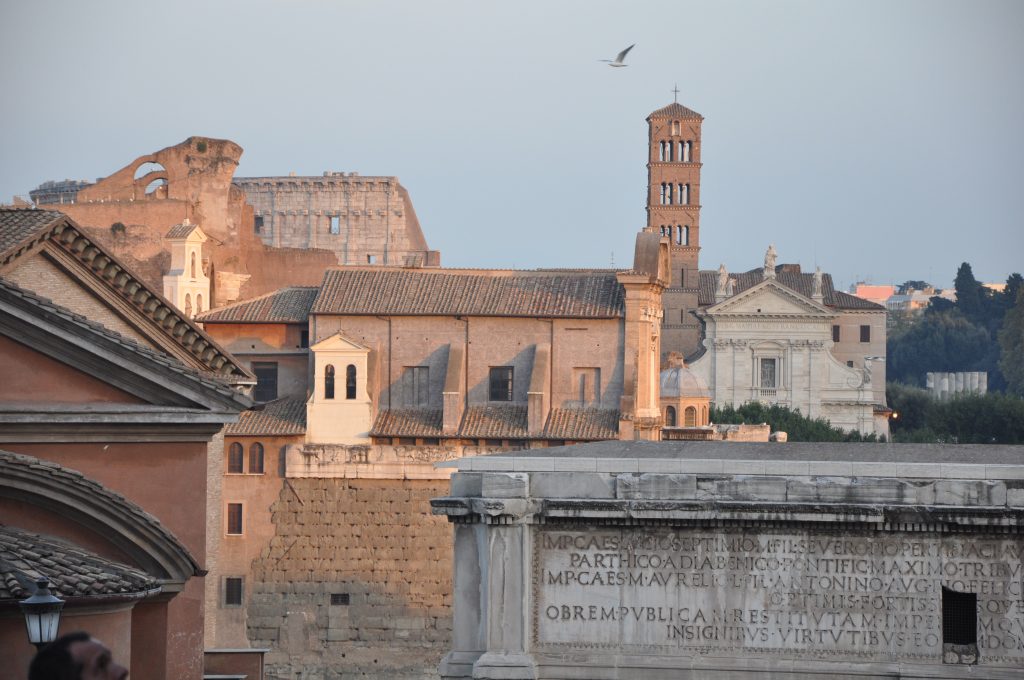 In terms of the drive in, Ciampino is ever so slightly closer…
If you have the luxury of jumping into a car and driving into Rome, Ciampino, at 11 miles (15km) from the city center, is closer. Fiumicino is 20 miles (30km). Funnily enough, though, that distance usually only winds up making a slight difference in timing: With normal traffic, the drive from Ciampino takes between 25 and 35 minutes, while Fiumicino takes between 35 and 45. (If you're heading to the airport to catch a flight, give yourself more time than that just in case, of course, and especially during rush hour).
But Fiumicino is much, much better for getting a taxi.
The drive from Ciampino should be easier than the drive from Fiumicino… but if you're planning to get a taxi, doing it from Ciampino is far, far worse. Avoid at all costs. (You can see your other options in the links below).
By public transport, Fiumicino airport is slightly easier to fly into if you aren't on a tight budget…
Because Fiumicino has a train station right at the airport, it's very easy to get into Rome by public transport: two different train routes take you into the center in just 30 minutes. If you don't want to shell out the €8 to €14 for a train ticket, there also are buses that go from Fiumicino to Termini for €5. Here's how to get from Fiumicino airport to Rome.
But Ciampino airport is easy too, and the train from Ciampino is cheaper.
Ciampino may not have a train station right at the airport, but it's only a five-minute bus ride away; if you're lucky and don't wind up waiting ages for a bus (which is possible), but catch a bus right before it leaves, it can still take 30 minutes from one end to the other. The train also is much cheaper than the one from Fiumicino — just €1.50. Like Fiumicino, Ciampino also has buses that go to Termini for about €5. Here's how to get from Ciampino airport to Rome.
Ultimately? It doesn't really matter which Rome airport you fly into.
The most important thing is that you get a flight that's within your budget and on the dates you need… and that you're coming to Rome at all.
Liked this post? You'll love The Revealed Rome Handbook: Updated, Expanded and New for 2017, which includes many more tips and tricks like these in more than 200 information-packed — but never overwhelming! — pages. It's available for purchase on Amazon or through my site here! I'm also free for one-on-one consulting sessions to help plan your Italy trip.