Want to know the weather in Rome, Italy? You could obviously just check out the forecast. (Not that that's necessarily that reliable). But you've wound up here instead, so I'm guessing you don't want to know the Rome weather coming up in the next few days — you're looking further ahead and curious what, say, the weather in Rome is usually like a few weeks or even months from now.
Maybe you're trying to decide when to come to Rome. Or you've already chosen your dates, and you need to know what to pack.
Although I resisted writing a post about weather in Rome for a while (compared to all of the incredible art and unknown museums and underground ruins and gelato gelato gelato the topic just seems so… banal), I get asked about it enough that it seems like it's time.
So: here's what to expect, season by season, in terms of the weather in Rome. And what this means in terms of what to pack and prepare for.
(PS: If you are looking for the weather forecast in the near future, two of my go-to sites are Weathercast and Accuweather).
Weather in Rome in… summer (spoiler: it's hot, and they're not that into a/c)
This is when things get nice and sweaty. Temperatures peak in July — that's when you're looking at an average high of 88°F (31°C). (While the average low is a comfy 62°F/17°C, if Rome ever hit that temperature in July, I'm pretty sure it's while I was sleeping). It's also the driest month of the year, with less than an inch of average rainfall. August is about the same — plus you have the double-whammy of the uber-crowds and that it's ferragosto (read: when many restaurants and shops close as locals, reasonably, flee to the seaside). If you can swing it, June is milder and less crowded, especially earlier in the month.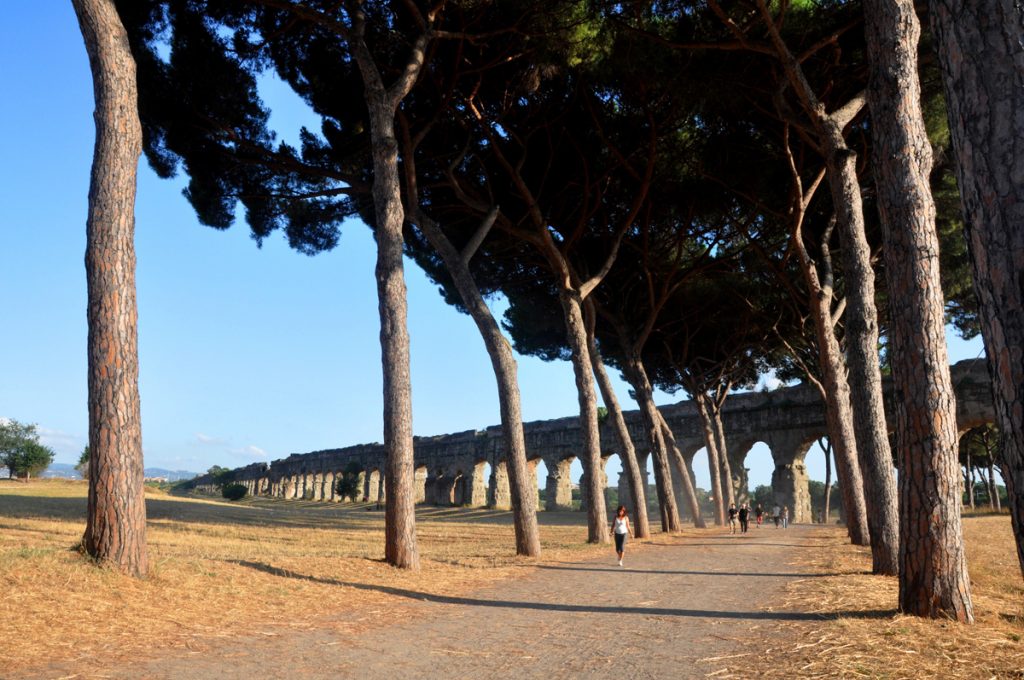 "Oh!" you say, "but I love the heat and the sun! This isn't a problem for me!" Yeah, okay. Try 90°F weather… when you're tromping around all day (or trying to stuff yourself onto crowded, sweaty buses and trains)… visiting sites with little-to-no shade (like the Forum)… with no access to an air-conditioned car… and when many restaurants, apartments and even museums lack any air-conditioning.
If you're locked into those months already thanks to school holidays/work vacation days/whatever, don't worry! You'll have an amazing time. Truly. But don't miss these pro tips on how to survive the heat in Rome. And please, please wear sunscreen.
What to throw in your suitcase: Sunscreen (…put it in a Ziploc in case it explodes — you want it all over your skin, not your clothes), sunglasses, a light scarf to cover your shoulders (for ladies) for ducking into churches, an excellent deodorant and a sense of humor. What to leave at home: Your Nalgene (really) and the enormous suitcase that will make you sweat a Mediterranean-sized pool trying to lug it up the staircase to your fourth-floor B&B.
Weather in Rome in… fall
First, let's be clear about one thing: in terms of heat and even crowds, September is pretty much summer in Rome. (It has the same average temperatures as June — highs of 82°F/28°C). So if you truly want to come in the autumn, which I can't recommend more highly, plan for October or November. Preferably October: I moved to Rome in October, which was described to me by a local as a magic month. He couldn't have been closer to the truth. Even the light seems more golden. (For more, don't miss five reasons to love to fall in Rome).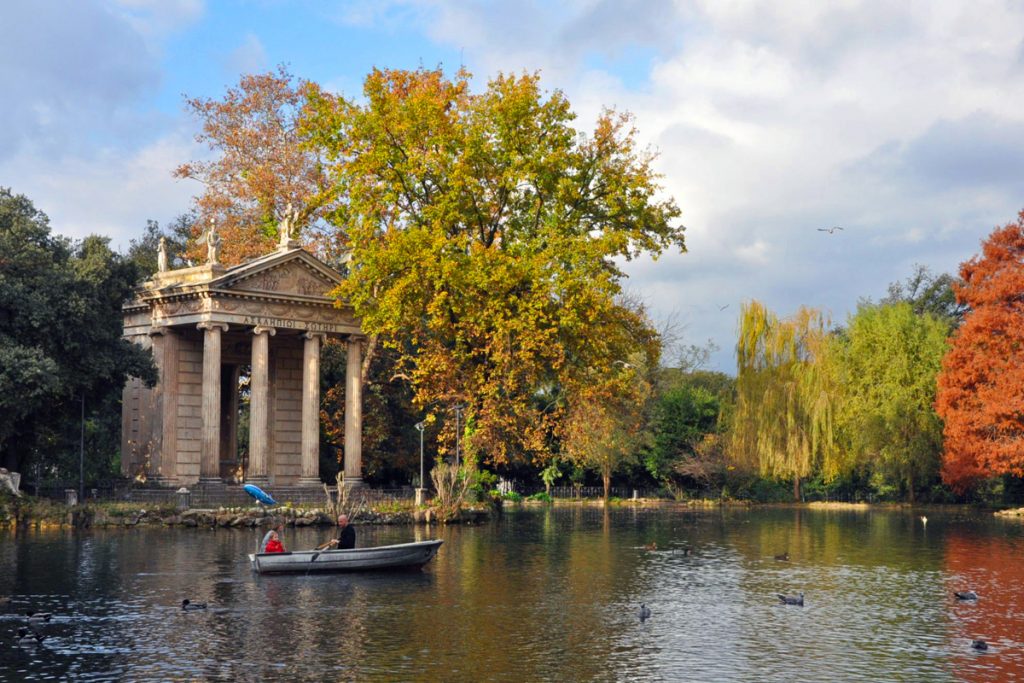 Here's what the weather in Rome is typically like for most of the fall: balmy (think highs of 73°F/23°C in October, getting down to 62°F in November), with clear, sunny days and crisp nights. Here's what the weather can be like sometimes in the fall: chilly and rainy, with between 4 and 5 inches (10-12cm) of rain in each month. November, in fact, tends to be the rainiest month Rome sees year-round.
And it can, indeed, be rainy. In fact, on average, Rome in November gets twice as much rain as London, a smidge more than Boston or New York City. (Yeah, that surprised me too). But the difference that usually — usually — in Rome, it tends to pour down… then stop. Yes, it might pour down again a couple of hours later. And it can be near-torrential — hence that high average. But it doesn't tend to be the week-long drizzle that you get elsewhere.
So keep in mind that even if the Rome weather forecast is calling for rain on a certain day, it might only be for part of the day. And when the sky opens up after a storm, it's just about the prettiest, most photogenic thing you've ever seen. Just see below. (Further proof here).
What to throw in your suitcase: Layers, a light jacket (especially for night), closed-toe shoes that still aren't winter boots (think ballerina flats) and sunglasses. What to leave at home: Your umbrella (if you get unlucky enough that it starts raining while you're out, Sod's Law holds that you won't have it on you anyway, plus a hundred vendors will pop up on the street trying to sell you a cheap one).
Weather in Rome in… winter
The good news: if you're not a heat-and-crowds person, this is your season! (Outside of Christmas and New Year's week, that is. That's pretty much as high a high season as August). In December, January and February, there's an average high of about 55°F (13°C); it can get as low as 35°F (2°C) but, again, you're probably sleeping through this. While you're out and about, plan for it to be generally in the 40s.
While that's a bit chilly for some, the upside is it's also drier and sunnier than the fall — in fact, crisp and clear tends to be the name of the game.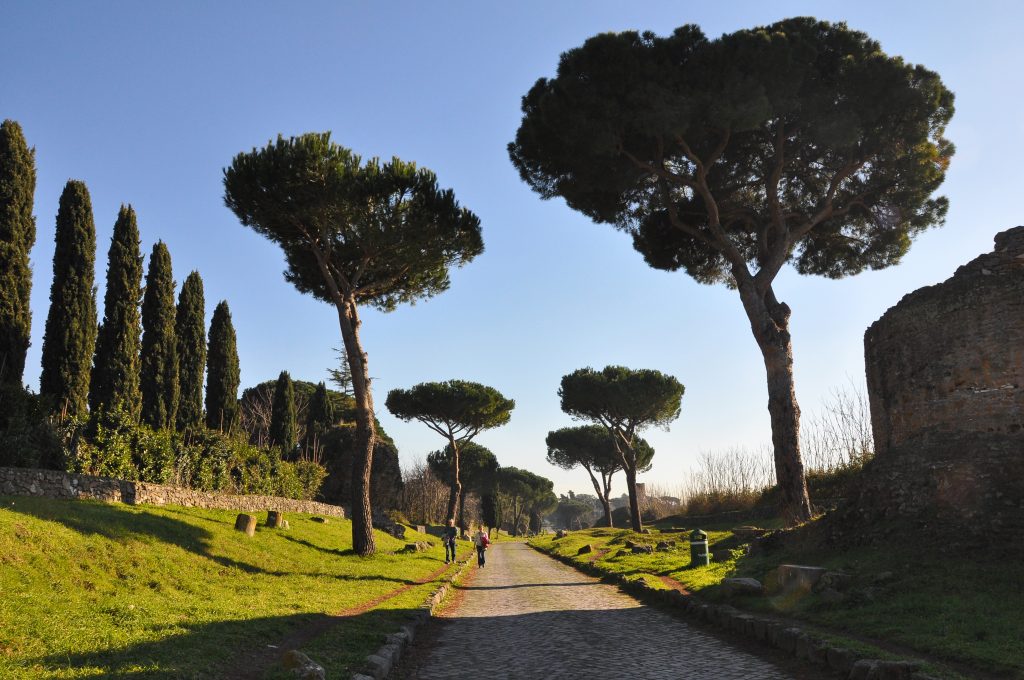 However: December, January and February remain wetter than March, April and May, on average. So much for that "April showers bring May flowers". More like "December showers bring May flowers".
But remember how pretty we said the rain could be? It is! And if you're really lucky, you might even see a rainbow…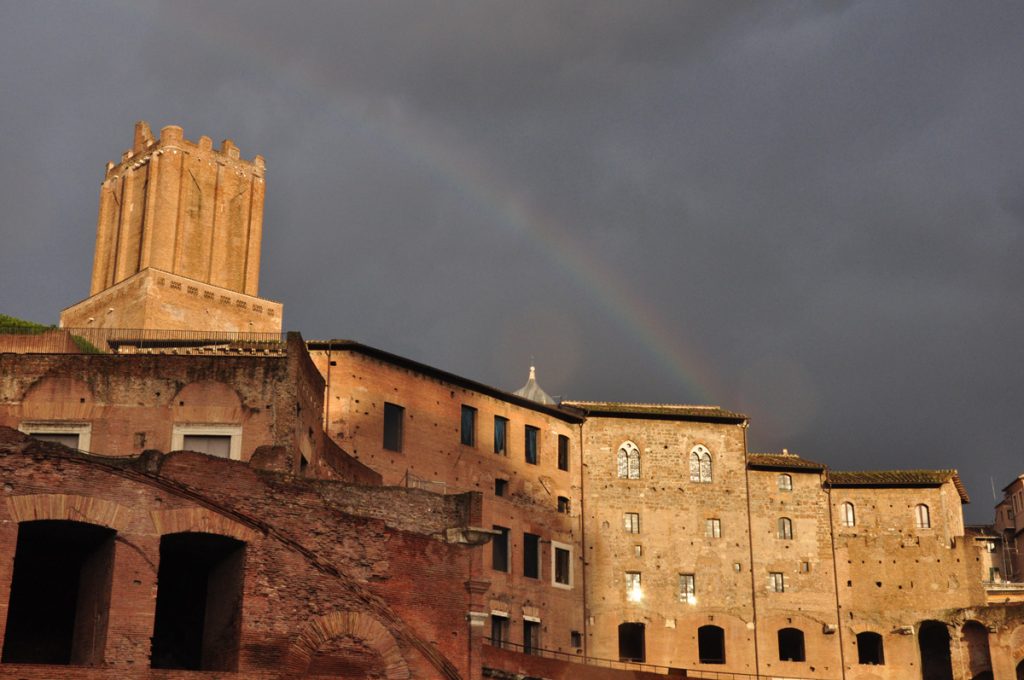 Or, you might also see a lot of bundled-up, slightly soggy people. The photo below is just to keep it real, because I'd be lying if I told you rain in Rome was just a nonstop good time. (And if you're looking for ideas on what to do when it's raining in Rome, look no further).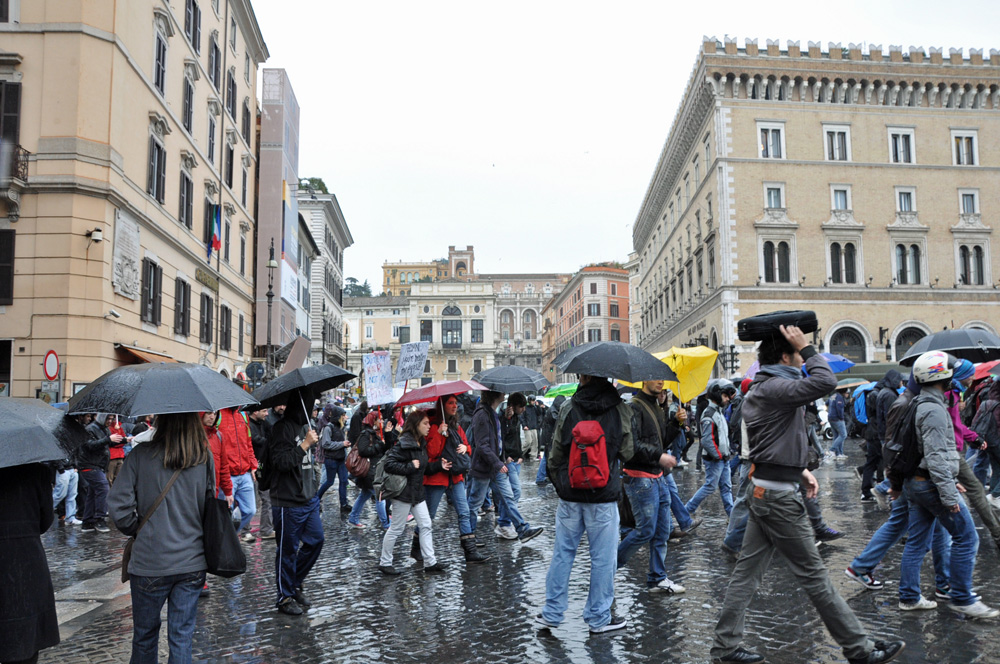 What to throw in your suitcase: A warm jacket, sturdy (read: water-resistant) shoes (there's a reason leather boots and shoes are the winter go-to here), a scarf (to tie on even on mild days, mostly so locals don't panic that you're going to suffer from the deadly colpo d'aria), leather gloves and sunglasses. What to leave at home: The expectation that "it's Rome, so it must always be warm!".
Weather in Rome in… spring (warm, lovely, with maybe some rain)
Ah, another bee-yoo-tee-full season. (Though, aren't they all!?) The flowers are blooming, people are gathering in the piazzas and there's green where you least expect it… like cascading down buildings.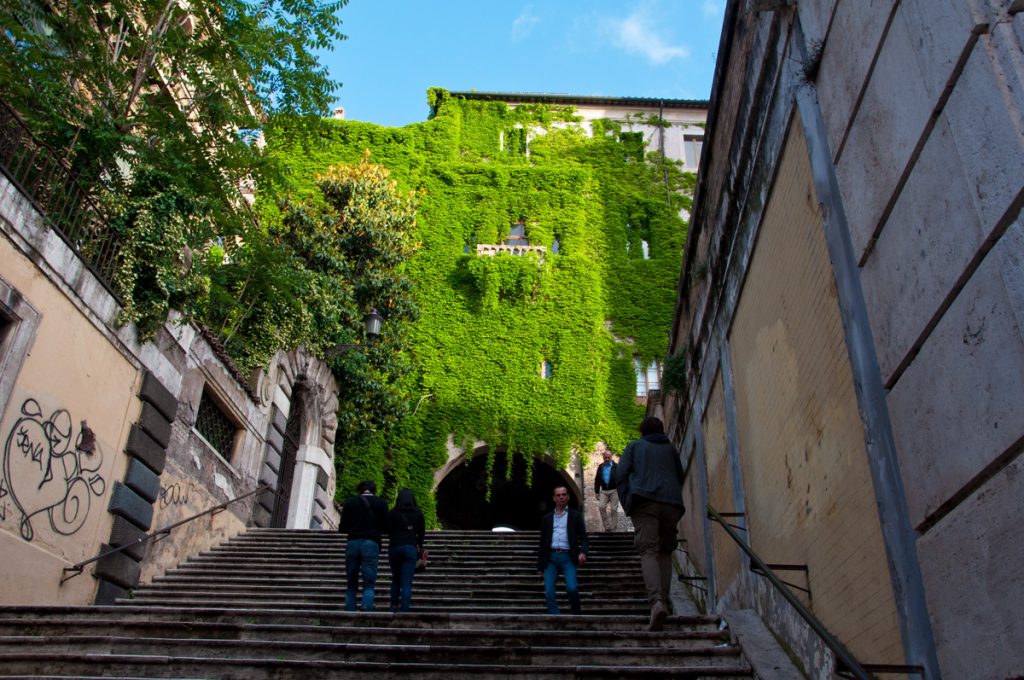 If you're looking for spring at its warmest and sunniest, aim for May: the month gets an average temperature of 75°F (24°C), getting hotter toward the end (obviously), with about 1.5 inches (almost 4cm) of rain on average — roughly the same as August. April is almost a full 10 degrees cooler at a very comfortable 67°F (19°C), but also sees an average of almost an inch more rain. And March, which is as rainy as April, tops out at an average high of 61°F (16°C).
If that didn't sound nice enough, here are five more reasons to love spring in Rome.
What to throw in your suitcase: Layers, a light jacket, sunglasses. What to leave at home: I don't know. Your cynicism? Because you'll be falling in love with this city. Yeah, I went there.
Also: why the Appia Antica makes for the perfect stroll, the Rome airport to never take a taxi from and the ultimate guide to Rome in summer.
If you liked this post, you'll love The Revealed Rome Handbook: Tips and Tricks for Exploring the Eternal City, available for purchase on Amazon or through my site here! I'm also free for one-on-one consulting sessions to help plan your Italy trip.