Actually… the issue isn't necessarily whether you should take a day trip from Rome to Naples. The issue really is that a day in Naples is not enough time to explore the city's art and archaeology, its ridiculously good food and fascinating underground, its vibrance and energy.
Or to even start to grasp its contradictions. Naples is a place where a spate of contemporary art museums have opened in the last few years — but where people still lower baskets outside their window to the street to trade cash for cigarettes.
It's a place where traffic patterns will sometimes completely break down — but where the buses are frequent and the brand-new subway stations have all been beautifully designed by contemporary artists.
It's a place where whole families will cram onto a scooter without a single helmet between them — but where you'll be admonished by a well-meaning local if you dare to go out on a chilly night without a scarf around your neck.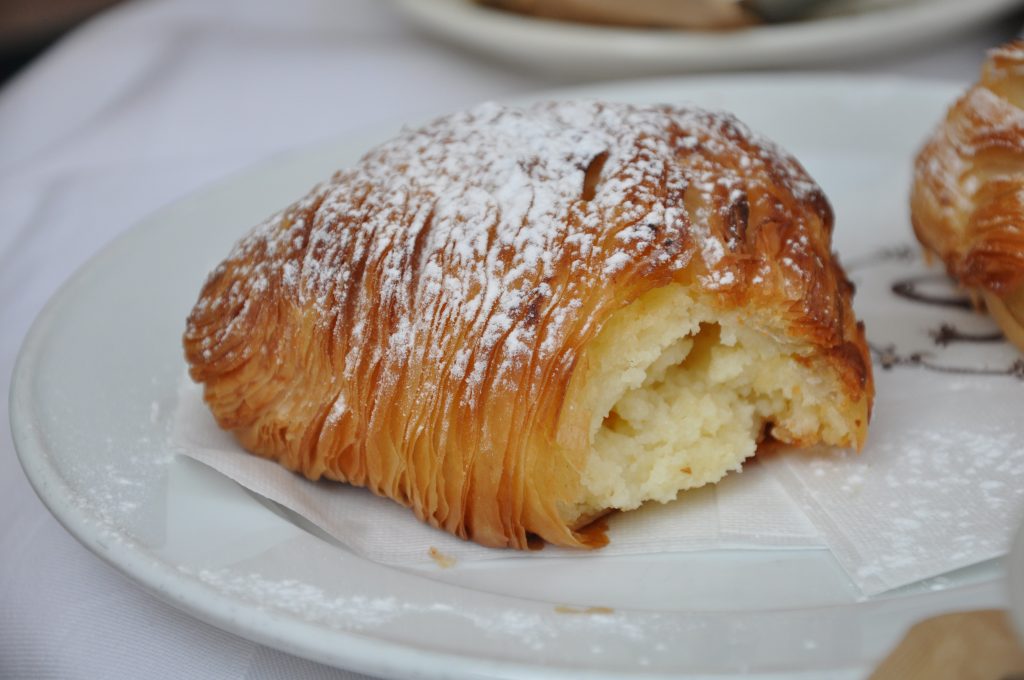 To really start to dig into (and grasp) Naples, you need at least two, three days. Or, frankly, a lifetime. (For a very good sense of why it took me a few visits to capitulate to bella Napoli — but why I wound up falling for the city, hard — then read this piece I wrote for New York Magazine).
But most people coming to Italy aren't considering whether a day trip from Rome to Naples is enough. They're considering whether to visit Naples at all.
Much of that is the really bad rap Naples has gotten in the press. Outside of Italy — but even within Italy — if you hear about Naples in the news, it's usually because of garbage or the Mafia. (Or, more recently, because of Elena Ferrante's books
. More on that later).
The garbage issue was, indeed, bad. But it peaked in 2008. While the system (…as much as there is one) still, sometimes, breaks down, leaving some dumpsters overflowing or trash bags on the street, I've also seen that in Rome. And Manhattan.
The idea Naples is one big dumpster just isn't true.
The Mafia? Yes. Still a problem. A big one. But again — one hardly unique (sadly) to Naples, and unlikely to be something that affects you as a visitor. Stray bullets aren't exactly just spraying over the Spaccanapoli on a Saturday night.
(That being said, you do have to be careful of petty crime; here are some up-to-date tips from the U.S. Department of State. Note, however, that you should be equally alert in cities like Rome, Venice and Paris, and that, as the website notes, violent crime is incredibly rare).
Of course, even leaving garbage, the Mafia and crime to one side, not everyone adores Naples. Most people, instead, tend to either love it or hate it.
Here are some of the reasons people hate it:
1) It's gritty.
2) It's chaotic.
3) It's intimidating: big, and noisy, and it really feels foreign, especially because there are way fewer restaurants and other places that cater to tourists than in other, major Italian cities!
4) There's so much graffiti! (Don't these people care about their city?)
5) Did we mention it's chaotic?
And here are the reasons people love it:
1) It's "real" — no Disney version of Italy here.
2) The energy! No Italian city has an exuberance quite like bella Napoli.
3) It's not touristic on the level of, say, Venice or Florence or Rome. That means that you can be alone in front of a Raphael painting. It also means that, often, people are just that much warmer and more open and curious about why you're there.
4) The art! Contemporary art! Urban art! Ancient art! Renaissance art! And people really seem to care about their city: despite how hard it is to start anything new in Italy, they're pushing to open new boutiques, galleries, cultural associations…
5) Did we mention the energy? The people salsa dancing on the street at 10pm, the children kicking soccer balls across squares, the cacophony of cups clinking and espresso machines whirring at a cafe, the lovers wrapped up in each other on the steps of grand cathedrals…?
See how those things are, in many ways, all two sides of the same coin?
So if you're tight on time (and who isn't?) and considering a day trip, then it's time to do a little self-reflection.
If you love the serendipity and chance encounters and randomness of travel; if you prefer soaking in local life to being "a tourist"; if you're really, really curious about places with the kinds of contradictions Naples has at every turn; if you feel energized by the energy around you; if you feel comfortable in "up-and-coming" areas on the edge of gentrification, in all their fascinating, slightly-gritty glory — then don't hesitate.
Go. Go for two days. Three. A week. A month.
If you're not quite as sure, and all that chaos doesn't sound relaxing to you, but you love the idea of those empty art museums and that pizza, then take a deep breath and wade in.
I'd suggest doing a "taster" of Naples: if you visit Pompeii in the morning, spend the afternoon in the relatively touristic and manageable area of the Spaccanapoli, having the best coffee and pastries and pizza of your life, wandering the piazzas, stopping at the archaeological museum.
Or spend a whole day in Naples, but mix up exploring its grittiness with its more elegant side. (Yes, Naples has an extremely elegant side. You don't hear about that much, do you?). In particular, spend time in the well-heeled Chiaia district: it's full of luxury boutiques, art galleries and high-end restaurants, it's clean and dotted with green spaces, it's right on the sparkling waterfront and it even has a castle. Have cocktails at one of the trendy bars in the shadow of the Castel dell'Ovo, surrounded by the young and beautiful, and I promise: when you go home and people say "You went to Naples? Isn't it dirty?!?", you'll have no idea what they're talking about.
Still not intrigued in any way, shape or form? Then get thee to the Tuscan countryside. I won't judge you. I'll just enjoy my pizza with one fewer tourist in view.
Convinced? Great! Here's how to get from Rome to Naples:
The fastest and easiest way, by far, is by train. There's really no reason to consider hiring a car or taking a private transfer, unless you're less allergic to really high prices and highway driving than you are to train stations.
With the train, you have two choices:
You can book with Trenitalia, Italy's national rail network. The fastest train is 1hr 10min and starts at €44 one-way — the price is often lower if you book online, in advance. The Intercity train takes about 2 hours and costs €26. And the slowest, the Regionale, takes about 2hrs 45 mins and costs €11.
Or you can book with Italotreno, Italy's new private rail network. (More about Italotreno here). The fastest train is also 1hr 10min but the price starts at €27, even for a last-minute fare. The train is also slightly more comfortable. Now that Italotreno runs trains from Rome Termini (the main train station), this is the preferable option — but Italotreno has fewer trains than Trenitalia, so it depends on your timing.
Either way, make sure you input the correct Rome train station (for most people, it's Roma Termini) and Naples station (for most, that's Napoli Centrale).
One last thing: your required Naples reading
I mentioned Elena Ferrante near the top. She's the mysterious writer (no one knows anything about her, except that she's from Naples and almost certainly female) who has been the toast of the literati ever since her books — an incredible series of four novels about friendship, love and life in Naples — were translated into English.
Her novels are amazing. I promise if you read the first, My Brilliant Friend
, you will both be hooked on her writing (and what's better for your flight to Italy than a quartet of novels on your Kindle?) and even more intrigued by Naples.
So first: if you're considering Naples, read Ferrante. Yes, her Naples is gritty and down-at-heel and full of petty disagreements and larger-than-life passions. It's probably not the Naples you're going to experience. That's what makes reading it all the more fascinating.
Other reading:
I mentioned my essay for New York Magazine; you may also want to read my essay on exploring bella Napoli on foot and, in the same vein, travel editor Rachel Donadio's piece for the New York Times on why Naples is her favorite place.
Confused, having read all this, why Naples isn't a top tourist destination? Beppe Severgnini's op-ed — Why No One Goes to Naples — is a good start. It's not just Naples, as he mentions, but all of Italy's south, a question I address in my BBC piece A New Dawn for the Mezzogiorno?.
And for what to do and see, check out my roundup of contemporary hotels, restaurants and sights for New York Magazine; the New York Times' 36 Hours in Naples, which has good suggestions for contemporary art and designers; and these pizzeria recommendations via my foodie friend Katie Parla.
If you liked this post, you'll love The Revealed Rome Handbook: Tips and Tricks for Exploring the Eternal City, available for purchase on Amazon or through my site here! I'm also free for one-on-one consulting sessions to help plan your Italy trip.