By the time June rolls around, I'm dreaming of escaping to an Italian island near Rome. Luckily, the capital's proximity to the sea means you don't need to set aside a whole week to enjoy some idyllic island time. Even a weekend will do.
When I'm craving beautiful scenery, super-fresh fish, laid-back hamlets and those sparkling Mediterranean shores, but only have 48 hours to spend (or less!), these are the islands I go to.
It's a big claim when it comes to the Mediterranean, which is (let's be honest) embarrassingly #blessedwith stunning little spots, but I'm going to put it out there: these are some of the best islands not only near Rome, but some of the best Italian islands around, period.
The best island near Rome for… going where the locals go: Ponza
I can't believe I've gotten into year five of this blog without having published a word about Ponza. For shame! When it comes to Mediterranean islands, and especially islands near Rome, it's easily one of Italy's best-kept secrets… from international tourists, that is.
Romans, on the other hand, know Ponza well. In fact, the well-heeled have been visiting the island for more than 2,000 years, drawn by its lush, volcanic greenery, striking cliffs and, of course, bright-blue sea. (Fun fact: Ponza gets its name from a local legend which holds that Pontius Pilate's own family had a villa here).
Today, Ponza (also shown at top) is scattered with a handful of small, pastel villages. The main port town crowds with Italians fresh off the ferries in July and August. (It's much quieter even in June, and when I went once in October, there was hardly anyone there at all — even though the temperature remained balmy enough for a swim).
Although its villages are lovely, Ponza's main attraction is, of course, the natural scenery. Don't miss  the Chaia di Luna (above), a crescent of cliffs plunging into the sea where Circe, the sorceress, was said to have seduced Odysseus. In-the-know-Italians also flock to Spiaggia di Frontone, which you take a ferry to from Porto, and stay until the evening, hanging out at the laid-back bars and beach clubs.
Renting a car or scooter is, as with all three of these islands, suggested — but for Ponza, especially, it's also worth renting a small outboard boat, which you can do right at the harbor, to toodle around. It's the best way to get to those out-of-the-way coves and beaches that make the island so special.
Getting there: Take the train from Rome to Formia-Gaeta (one hour, €16.50 or 1.5 hours, €8.20), or to Anzio (one hour and €3.60). From Formia, Laziomar runs ferries to Ponza (80 minutes, €25.50 or 2.5 hours, €16.70); from Anzio, Vetor offers ferries to Ponza (70 minutes, €25 to €48).
The best island near Rome for… sightseeing (including a castle): Ischia
Capri isn't the only island off Naples and the Amalfi coast. Ischia, its neighbor, is actually the largest island in the bay — plus is cheaper, less touristic and every bit as beautiful.
I've written about Ischia at length before, both in this post and in this story last year for the Globe and Mail, so I won't repeat it all here. But let's put it this way: Ischia has a ridiculously picturesque castle (that just happens to date back to the time of the ancient Greeks), tons of little villages and coves to explore, and some of the best sfogliatelle around. And it makes not only a fantastic quick trip from Rome, but a great day trip from the Amalfi coast or Naples, too.
Yes, you could definitely come to Ischia and just flop down on the beach. But with so much to see, you'd kind of be missing the point.
Getting there: Take the train from Rome to Naples (the fastest is 70 minutes, €43; cheapest is 2 hours, €19). From there, grab a bus or taxi to the port (10 minutes; a taxi costs €11) and one of a number of ferries, run by lines including Medmar, Caremar, Alilauro and Snav, on to Ischia. The fastest from the main port takes 45 minutes and costs about €28 each way.
The best island near Rome for… an idyllic day trip: Procida
This picturesque little island is another of Capri's lesser-known neighbors. It also measures just 1.5 square miles — leaving so little room for tourism buildup, both hotels and tourist crowds are pretty nonexistent.
That, of course, is part of Procida's charm. Old men gather in the piazzas to gossip and smoke, fishermen repair their nets on the docks and centuries-old traditions endure — like the Good Friday procession of the Misteri, which parades life-sized, handmade floats through the town.
Aside from the seaside life and spectacular scenery (this is where Il Postino was filmed), the island has a sense of magic to it I haven't experienced anywhere else, a kind of Neapolitan mysteriousness that's been transferred (and preserved) offshore. One local legend has it that, when Procida was besieged (hardly for the first time) by pirates on 8 May 1535, locals called on St Michael the archangel for help. He showed up, sword in hand, and the pirates fled, another anniversary that's celebrated with a procession each year.
For more about Procida, and more shots of this stunning off-the-beaten-path island, check out my slideshow for the BBC.
Procida's size makes it more walkable than the other islands, so you don't have to rent a scooter or car. But getting to some of the farther-flung beaches on the island can still be a bit of a hike (it's a 2-mile walk from the town to the lovely, if crowded on summer weekends, Lido di Procida beach, for example); we found ourselves occasionally taking cabs, which were relatively cheap (but you will have to have some way to call them).
As an aside, the island's manageable size and proximity to Naples makes it not only a great weekend escape, but a doable day or half-day trip from Naples or the Amalfi coast.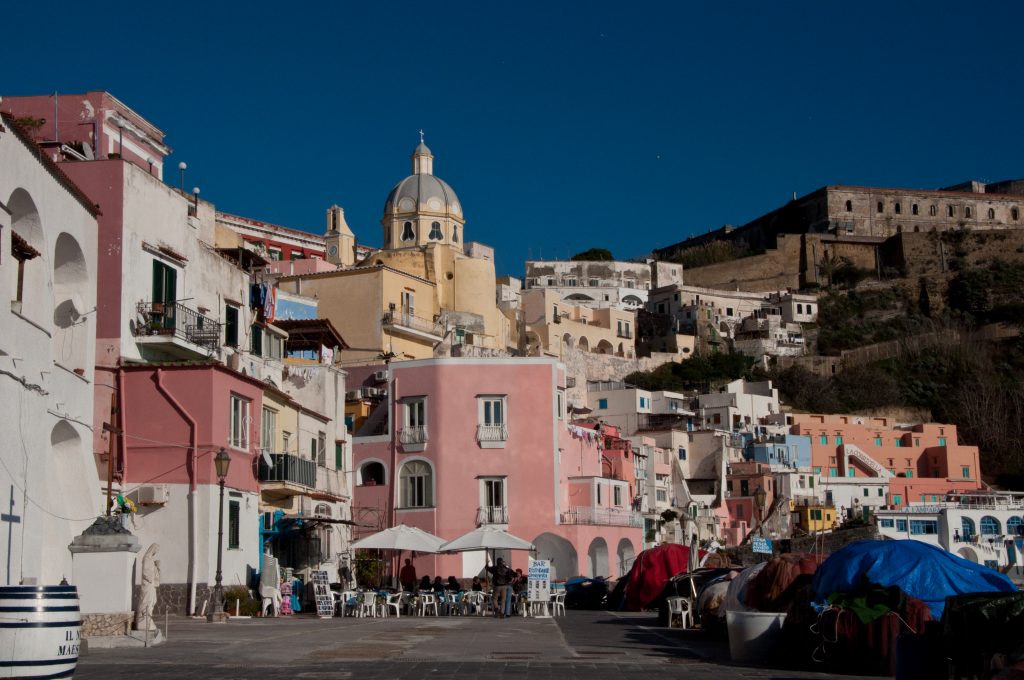 Getting there: For the most part, the ferries that run to Ischia stop, first, at Procida. So it's the same procedure as above: Take the train from Rome to Naples (the fastest is 70 minutes, €43; cheapest is 2 hours, €19). From there, grab a bus or taxi to the port (10 minutes; a taxi costs €11) and one of a number of ferries, run by lines including Medmar, Caremar, Alilauro and Snav, on to Procida. The hydrofoil takes just 40 minutes and costs about €15 each way.
If you liked this post, you'll love The Revealed Rome Handbook: Tips and Tricks for Exploring the Eternal City, available for purchase on Amazon or through my site here! I'm also free for one-on-one consulting sessions to help plan your Italy trip.