I couldn't be more excited to announce that, after five years, my new Rome guidebook is out.
The original 2012 version of the Revealed Rome Handbook: Tips and Tricks to the Eternal City sold thousands of copies (and got rave reviews). This book builds on that success with an in-depth update and serious expansion: It's crammed full with more than twice as many fun, easy-to-digest tips and tricks than the previous version.
Like the previous version, the new book is not your normal "Rome guidebook". Instead of providing information easily found elsewhere, it gives you tips and tricks to experiencing Rome like a local, including items like…
how to pick an authentic Roman restaurant at a glance
budget accommodation options you may not have considered
the one place to never take a taxi
secrets to skipping the lines at the Colosseum, the Vatican and more
off-the-beaten-path neighborhoods that should be on your list
how to eat gluten-free, vegetarian or with other dietary restrictions
key tips for booking (and taking) trains
here to find drinking water, and bathrooms, while out and about
how to protect yourself from pickpockets
the best neighborhoods in Rome for shopping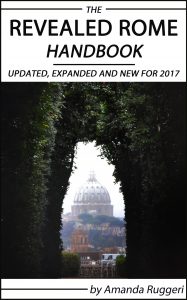 …and much, much more. Buy it on Amazon here or by clicking the cover at left.
I'm also really excited to say that, for the first three months of publication, I'm donating a significant portion of the profits (€1/$1/£1 per book, depending on location of sale) to a cause I believe in: the American Institute for Roman Culture, a nonprofit which protects and campaigns for Rome's cultural heritage. So if you're thinking of buying a book, now is the time to do it!
The book comes on Amazon as an e-book which can be read on any tablet, iPhone, laptop or Kindle.
Note: Bought the book before today, and now wish you'd waited for the new version? Don't worry: You can replace the older version with this update. If you're using a Kindle device or app, turn on Annotations Backup to back up your notes, highlights and bookmarks. Then go to the Manage Your Content and Devices page, select "Automatic Book Update" under the Settings tab and select "On" from the dropdown menu. Your e-book automatically will be updated to the new version.
If you'd prefer to receive the book as a PDF, order it through Paypal by clicking on the button below. When I receive the order confirmation, I will e-mail you the book as a PDF. (Just be aware that this is a manual process, so can take me up to 48 hours to e-mail over).